Finding solutions, informing communities, together.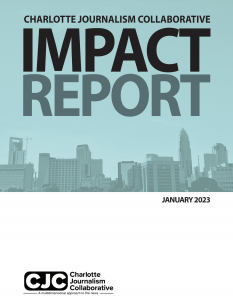 Read the 2023 Charlotte Journalism Collaborative Impact Report
Download our 2021-2022 Strategic Plan
Our Core Values
We choose courage over comfort.
We report for truth, even when the truths are unpopular or uncomfortable.
We explore alternative, creative ways of reaching audiences with an eye towards impact.
We utilize our collective power to research and voice solutions to city crises even when powerful people and institutions are invested in maintaining the status quo.
We act in service for our community.
We remain hyper focused on the problems facing Charlotte residents.
We seek solutions for community health and well-being and aim to strengthen the overall connections with the local news ecosystem.
We present news that resonates with and reflects diverse communities.
We intentionally create opportunities for diverse communities to engage.
We share information that helps residents navigate complex situations.
Stop housing harm in Charlotte.
We do this through rigorous and collaborative solutions journalism. As we grow as news professionals and as a collaborative focused on increasing opportunity for engagement and trusted information in the local news ecosystem — our goal is to impact the community we serve while revitalizing a sustainable and trust news community that is supportive and vital to the growing city of Charlotte.
The Charlotte Journalism Collaborative is dedicated to provide a platform and structured community journalism partnership that supports the future of Charlotte in its work, serves as a trusted source of information and news and addresses the problems that are the most important to our city's residents.