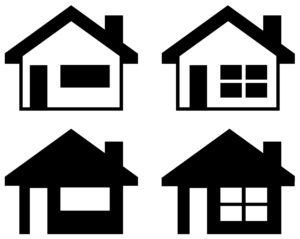 Buying your first home is equal parts exciting and nerve-wracking. While the goal is to own something that will allow you to build wealth and make a space all your own, there is also risk and a lot of unknowns—especially if you've never done it before. Despite all the stressors involved (money, commitment, making lots of phone calls, signing lots of paperwork, learning some legal terms), it really is worth it in the end.
To help you get started, I'm going to share what my own process was like, buying my first home in 2016. I've broken it down step by step to help you better understand the process and decide if buying is the right option for you. I also got some help from local real estate agent, Justin Butler, who will throw in his advice and observations for each topic.
Step 1: Figure out Your Finances
My own house search started as a rental search. I really didn't see myself as ever being able to buy a house due to it being too expensive, too confusing, and I was unnerved by the idea of a 30-year contract with a bank. However, as I started to realize I was being priced out of the rental market here in Charlotte, I began to casually explore the possibility of owning a home. What really ended up changing my mind was seeing how much a monthly mortgage payment was compared to the monthly rent I was paying. I could get 3 times as much house for almost half the cost of what I was paying in rent. (Check out this handy Is it Better to Rent or Buy calculator from the New York Times.)
While it may be cheaper month to month to own a home, there is still the large one-time cost of a down payment. This is the initial payment you make towards the total cost of the house. It can be as little as 3% of the total house price or as much as 20%.  The more you put down on a house, the easier it is to get a loan for the rest. Check out this article from Nerd Wallet on how to calculate how much to put down. I also relied heavily on the Home Loan Toolkit from the Consumer Finance Protection Bureau (CFPB) to help me get familiar with the terminology and figure out my budget.
If you're serious about buying a home and not sure if you can afford it (even after reviewing your finances) meeting with a mortgage representative could be beneficial because they will be aware of any special programs that you may qualify for, including down payment assistance.
Step 2: Getting Pre-Approved
Since budget is such a big determining factor in the process of buying a house, getting pre-approved for a home loan is one of the first steps you need to take. Before you talk to a real estate agent, before you start looking at houses—you need to know how much house you can afford. Pre-approval also means that you have the financing in place to jump on a house that you are interested in.
So, what is pre-approval and how do you get it?
Pre-approval is basically an amount determined by the bank that they are willing to lend you in order to buy a house. It is not an actual loan, it is just a piece of paper that says the bank is ready to give you the agreed upon amount if the right house comes along. Some realtors will require (or at least recommend) pre-approval before looking at houses. It is a verified way for them to know what your budget is, since it is coming directly from the bank and not self-reported.
[us_testimonial style="3″ author="Justin Butler" company="Willow Oak REALTORS®"]"The Charlotte market has become so competitive that homes are selling almost as soon as they are listed—Having pre-approval gives you the confidence to make an offer when you're competing with other buyers to get your dream home."[/us_testimonial]
You can go about getting pre-approved in a few different ways:
Step 3: Finding a Real Estate Agent
There are a lot of realtors out there. You probably know one, through family, friends, or coworkers. My own house search began because I discovered my yoga teacher was a real estate agent and I reached out to her with my questions. Most real estate agents get new business from referrals. When I was first thinking about buying a house, I was hesitant to take the step to get a realtor because it felt like something I couldn't get out of once I started. It felt like I needed to know more about the process before I met with a realtor. And perhaps most importantly, I didn't understand how real estate agents got paid. I was worried I would be owing them money upfront or that if I couldn't find a house I would owe them money.
The real estate agent that helps you with buying a house is called a buyer's agent. You don't pay them directly for any part of the process—they are paid at closing (see Step 7) by the seller of the house you are buying. If you don't buy a house, they are not paid. See this article on How Buyer's Agents Get Paid.
A good real estate agent will not push you on your budget, and will have a good understanding of your parameters and wishes. They will help you understand the process and help with a realistic perspective of how things work and how much they cost. It's totally okay to meet with several real estate agents and see who you like the best. You will be spending a lot of time with this person, so it's nice to have someone  who is communicative, available for questions, and an  effective advocate.
Most realtors get their business from referrals. There's a good chance you know somebody who's had a good experience and can give you a recommendation. If not, your mortgage person can also recommend someone they've worked with before.
Step 4: Looking for a Home
Now to the fun part. In the beginning of my house search, I was amazed by every house I saw. Coming from apartment living, where I just had to live with that weird spot on the bathroom floor, or that peeling linoleum in the kitchen—seeing these houses that were prepped and renovated for selling, was amazing. It took me a few houses to start to get a sense of what I really wanted, and get over the wow factor of having an entire house to myself.  
The most difficult thing for me during this process was the competitiveness of the market in Charlotte. There was one house I liked, but wasn't sure about, so I took the night to think about it. By 8pm that night, it had sold to somebody else. It's hard to make such a big decision so fast. My realtors kept assuring me that when I saw the right house I would "know."  
Find a part of town that you would like to live in, but keep an open mind. Be open to adjacent neighborhoods and parts of town you may be less familiar with—it will give you the best chance of meeting most of your criteria.
Buying a house is a big commitment, but it is also just a house. Everything about it is not going to be perfect, and you'll get better at knowing what you want the more houses you look at. When I walked into the house I now own, I was immediately in love. For me, lots of sunlight and big windows were important, and this house had it. The small closets and weird tile in the kitchen were second to the feeling I got from the house. My biggest advice would be to go with your gut—and listen to your realtors. My realtors steered me away from several houses that I only kind of liked but was ready to buy just because the speed of the market was making me nervous.  
Once you find a home you want to buy, the paperwork starts to happen fast. This is when I was so glad to have a team of realtors and a mortgage loan officer I trusted.  An important thing is to be prepared for during this stage is the money you will need to put down right away. This is not your full downpayment yet, but something called earnest money, which is a smaller amount that shows the seller you are seriously interested in the house. This money goes into an account called an escrow and stays there until the sale is finalized. 
Your realtor will be able to give you advice on what price to offer based on comparable home sales in the area. It's not uncommon to have some negotiation after you make your initial offer. Once you have a fully signed contract, your realtor will set up the inspection, appraisal, and contact a closing attorney.
The written offer that your real estate agent writes up and sends to the seller's agent will include the offer price, any contingencies you want to place on the seller, and any disclosures about the house from the seller. This offer will go to the seller's realtor, and then they may counteroffer and send it back to your realtor. This can go back and forth several times before something is agreed upon.  
Step 6: The Due Diligence Period
Due Diligence is a 30-60 day period (it can be shorter or longer) during which the house is "under contract." This means the seller has accepted your offer and you've both agreed to a set of terms. This period is your chance to make sure everything is in good condition, get your financing in order, and any other doublechecking you want to do with the house. The length of the due diligence period is often a part of the negotiations when you are writing your offer and going back and forth with the seller. Often the seller prefers a shorter period, and the buyer a longer period (though not always).  
During my due diligence period, I had a home inspection, an appraisal, and finalized my financing with the loan officer.  
The home inspection is a process where a contractor or other professional actually comes to the house and does a thorough inspection of the house. They are looking for any issues—water damage, issues with the roof, structural damage, etc. They will even go into the crawl space (if there is one) and get in the attic (if there is one) and try to find any issues that need to be documented. You can get specific inspections in addition to the regular inspection, such as a pest inspection. I asked my realtor for a recommendation on a home inspector, but you can use anyone that is licensed to inspect homes. 
The time between going under contract on a home and a closing can be hectic. In addition to having the inspections and appraisals, you might find yourself negotiating repairs, price, and making plans to remedy any issues found during this time.
The appraisal is a process during which an appraiser comes to the house and decides if it is worth the price at which it is being sold. This was one of the most stressful parts of the process for me, because the house appraised for less than I had agreed to pay. This can be a good or a bad thing. It means you can re-negotiate with the seller for a lower price, which is good (though stressful). It also means that the bank will typically only loan you up to the appraised price—this means that if the house appraised for $198k and you had offered $200k, the bank will only pay $198k (typically). In my case, this involved my realtor having a lot of heated phone calls with the seller's realtor until we re-negotiated the price down. Which was great in the end, but I was very afraid of losing the house in the midst of the re-negotiating. I would trust your realtors, as they usually have a good sense of how all the pieces fit together. 
And finally, the last step of the process! If you make it through the due diligence process and come out the other side, you will find yourself at closing. This, for me, was the easiest part of the process. Closing is really just a meeting where you sign a lot of documents. The seller may or may not be present, but for me it was my realtor, my loan officer, and the closing attorney. The attorney had a giant stack of paperwork, which I slowly worked through, initialing and signing as he pointed at different sections. Once the paper work was done, I received my copies, my house key, and then the house was mine!  
The process can be different for everyone, but knowing the basics of what you will encounter can make this process a lot less scary, and will result in you getting the best house for you!