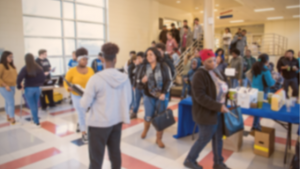 Do you have a passion for doing good and helping people? Do you have an idea that fits that passion that no one else has tried?  If you thought about starting a nonprofit, but are not sure where to start, here are seven things you need in North Carolina.   For more information check out the Charlotte Mecklenburg Library's Nonprofit Services page.
Complete your Articles of Incorporation. These legal documents you file, along with a fee, will officially incorporate your nonprofit. To learn more, please visit the North Carolina Secretary of State website for Charities (https://www.sosnc.gov/divisions/charities)
An EIN is a unique nine-digit number assigned by the Internal Revenue Service (IRS) to business entities operating in the US for the purposes of identification. It is commonly referred to as a tax ID number and can be setup online or you may download a paper Form SS-4 which can be mailed to the IRS.
3. Open a Bank Account
Go to the bank and request to setup up a separate account for the newly formed nonprofit organization. You'll need to bring the approved copy of the Articles of Incorporation along with the letter from the Internal Revenue Service with the Employer Identification Number (EIN) that has been assigned to your nonprofit.
The board of directors governs your nonprofit and has oversight of all the activities. They help set and carry out the mission, strategies and goals of the organization. The IRS does not have guidelines to determine who is certified to be on a board but have members who are passionate and bring expertise to achieve goals. Establish bylaws as a formal document detailing the rules and processes the organization and members will follow.
Apply for recognition of exemption from federal income tax under section 501(c)(3) through the completion of Internal Revenue Service (IRS) form 1023. This will include submission of your bylaws, other supporting documentation, and the filing fee. (Fee is based on your operating budget)
To solicit charitable contributions, you must apply for and obtain a Charitable Solicitation License from the N.C. Department of the Secretary of State. This license is neede for most nonprofits.  There are a few exemptions from this requirement.  They are listed on the website of the NC Secretary or State.
Now that the nonprofit organization has been granted legal life to operate and solicit funds, you'll want to plan your fundraising. The first and most successful way you will solicit funds is through individual asks. Successful grants typically come easier as you establish your nonprofit and show the value (successful outputs) of what you said you would accomplish through your mission and vision. Keep in mind though, a best practice is to use a mix of ways to generate income, rather than rely on grants alone.