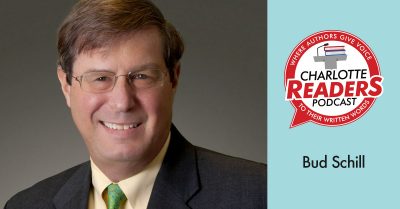 Not Exactly Rocket Scientists
In this episode, we meet Bud Schill, co-author of Not Exactly Rocket Scientists and other Stories.The late Pat Conroy said it is a "great book about friendship, growing up in the fifties, and a lost America that will never come again."
Bud reads several stories about "boys being boys" in the era of his youth. He describes the period in the lead story this way: "As a kid in the 1950s, I always figured the first person on the moon would be Alice Kramden.  Her TV husband, Ralph (Jackie Gleason), began threatening to send her there in 1956. Of course, he never did.  But 13 years later, on the day my first child was born, July 20, 1969, the United States put a man up there.  A lot of stuff happened in between."
Charlotte Readers Podcast is sponsored by Charlotte Mecklenburg Library.
Learn More About This Episode
Learn More About This Episode
In this episode, we meet Bud Schill, co-author of Not Exactly Rocket Scientists and other Stories.The late Pat Conroy said it is a "great book about friendship, growing up in the fifties, and a lost America that will never come again."
Bud reads several stories about "boys being boys" in the era of his youth. He describes the period in the lead story this way: "As a kid in the 1950s, I always figured the first person on the moon would be Alice Kramden.  Her TV husband, Ralph (Jackie Gleason), began threatening to send her there in 1956. Of course, he never did.  But 13 years later, on the day my first child was born, July 20, 1969, the United States put a man up there.  A lot of stuff happened in between."
Bud takes us to the in-between times with these stories of growing up, and in the process, it's easy to laugh, cry and become nostalgic for days gone by.
Bud grew up in Short Hills, New Jersey, in the 50s and early 60s with his two co-authors. After junior and senior high school (during which many of the adventures in their book take place), the three wound up at the University of Virginia –two of them in law school and one in business school.
Bud has been a trial lawyer and education law specialist with McGuireWoods his entire legal career, and is on the adjunct faculty of the Washington & Lee School of Law.  In his day, Bud could ride a bicycle indoors while balancing a slide rule on his nose and playing "Good Night Ladies" on the harmonica. A fan of water sports, he once water skied up the back of an alligator. He now prefers fly-fishing. Bud is visiting from Richmond where he lives with his wife Ginger.
Here's an excerpt from the lead story:
"After the explosion, the drainpipe was back at Dodd Potts' house (but on the roof), and the only thing left of the rocket was a black spot on the grass.  The rocket had dematerialized.
We had to start over.  We went with the conduit again, and the drainpipe (which we retrieved using a ladder).  We diluted the gunpowder just a bit and put a few drops of water in it to "slow the burn."
The second explosion ruined the drainpipe for future use and sent the rest of our contraption to Neverland.  We found pieces of conduit imbedded in the garage door, and we had to go to the very back of the yard (behind a tree, and technically not on our land) and dig up a piece of sod to patch the area of the front yard that had served as the launch pad but now was missing.
We wrote both of these failures off as bad luck. But we didn't much care, as we weren't planning on growing up to be rocket scientists."