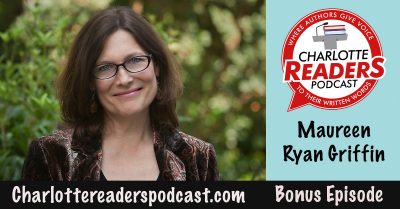 "Spinning Words into Gold"
In today's episode, we meet author and writing coach, Maureen Ryan Griffin, who reads poetry from her collection "Ten Thousand Cicadas Can't Be Wrong" and guides us through her writing book, "Spinning Words Into Gold: A Hands-On Guide to the Craft of Writing."
Charlotte Readers Podcast is sponsored by Charlotte Mecklenburg Library.
Learn More About This Episode
Learn More About This Episode
In today's episode, we meet author and writing coach, Maureen Ryan Griffin, who reads poetry from her collection "Ten Thousand Cicadas Can't Be Wrong" and guides us through her writing book, "Spinning Words Into Gold: A Hands-On Guide to the Craft of Writing."
This is a great episode to get your writing juices flowing, whether you are seasoned writer or one that wants to start dabbling, because writing can be for everyone.
Among other topics, Maureen explores the why, when and where of writing, and discusses some of the secrets to good writing.
We start the show with Maureen reading her poem: "Why You Can Go Back to a Story You Abandoned Years Ago and Finally Finish It."