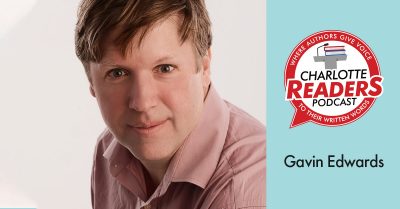 Real-Life Stories About Tom Hanks and Bill Murray
In today's episode, we meet New York Times best-selling author Gavin Edwards and we focus on his two books that explore the celebrity lives and careers of Tom Hanks and Bill Murray.
It's true that Tom Hanks is a nice guy but as Gavin notes, Hanks sees that summation as boring and Hanks' life and career have the complexity and richness to prove it. He's also beloved as a star of the big screen.
If Hanks is the nice guy, Bill Murray is the guy everyone loves to have crash their party, but he has a dark side, too. He's everywhere, he's random, he often is not on time for work and even his lawyers and agents have trouble reaching him. He's a Ghostbuster. Who you gonna call? Right?
Hear more from Gavin Edwards at Final Draught on August 13 http://bit.ly/32sJEFM
Charlotte Readers Podcast is sponsored by Charlotte Mecklenburg Library.
Learn More About This Episode
Learn More About This Episode
In today's episode, we meet Kathy Izard, author of the award-winning book: The Hundred Story Home: A memoir about finding faith in ourselves and something bigger. The "something bigger" in the title – that thing Kathy found faith in – was battling chronic homelessness in Charlotte, and for Kathy, this mission came in the form of a challenge.
Kathy had read a New York Times best-selling book entitled Same Kind of Different As Me, which the book cover says is about "a modern-day slave, an international art dealer, and the unlikely woman who bound them together." It's a story about a homeless man in Fort Worth, Texas named Denver Moore who with much hesitation, meets and befriends an art dealer and his wife, a woman Denver describes in the opening passages of the book as "the skinniest, nosiest, pushiest woman I had ever met, black or white."
Kathy Izard became a bit pushy too – in a good way – in her quest to take on chronic homelessness in Charlotte. But that quest never would have gotten off the ground or been as big as it was without a one-on-one meeting she had with Denver Moore, who she had invited to Charlotte to speak at a fundraiser about homelessness. While Denver was in town, Kathy proudly showed him around the Urban Ministry Center so that he could see all the good things Charlotte was doing to help the homeless. But it didn't go how she planned. Because she heard silence rather than praise. And then Denver asked the question that began to haunt her.
When Kathy Izard began working on her first manuscript in 2011 her writer's voice wasn't yet fully formed, but she knew she had important stories to tell about the four years she had spent working with homeless people in Charlotte. She felt she had witnessed some miracles and felt passionate about getting those stories into the world.
After six years and fifteen drafts, those stories were woven into a manuscript that became an award-winning, self-published memoir and then, in what is not typical once a book is self-published a book contract for The Hundred Story Home.
Her award-winning memoir has been featured on NPR and inspires people to be changemakers in their communities. She was honored as a William J. Clinton Distinguished Lecturer at the Clinton School of Public Service.
We open the show with Kathy reading about the encounter with Denver Moore that changed her life and the lives of many chronic homeless people in Charlotte.