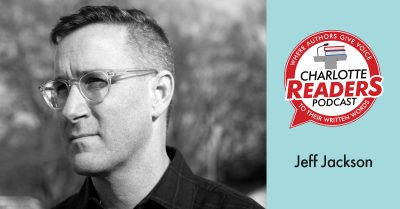 Destroy All Monsters – Literary Mystery
In this Charlotte Readers Podcast episode, we meet Jeff Jackson, whose latest book "Destroy All Monsters" has been called "the last rock novel" and what Ben Marcus called a book that "surges with new-century anxiety and paranoia…A clear-eyed, stone-cold vision of what's to come."
Charlotte Readers Podcast is sponsored by Charlotte Mecklenburg Library.
Learn More About This Episode
Learn More About This Episode
In today's episode, we meet Jeff Jackson, whose latest book "Destroy All Monsters" has been called "the last rock novel" and what Ben Marcus called a book that "surges with new-century anxiety and paranoia…A clear-eyed, stone-cold vision of what's to come."
The book deals with an epidemic of violence sweeping the country, where small punk rock bands are the targets. It's a literary mystery with music at the core, and fittingly, it has a Side A and a Side B. You actually have to flip the book over to read an alternate track of the same story.
After Jeff wrote the book, he joined a punk rock band and you will hear a few of the haunting lyrics in his band's songs on the show.
Jeff starts first with a scene in "Destroy All Monsters" where "a bustling que of teenagers wraps along the building's perimeter, bodies pressed tight to keep a claim on their territory."
Jeff Jackson is a novelist, playwright, visual artist, and songwriter. His second novel Destroy All Monstersreceived rave reviews from The New York Times, Washington Post, Los Angeles Times, and NPR. Pitchfork chose it as one of the Best Music Books of 2018.
His novella Novi Sad was published as a limited edition art book and selected for "Best of 2016" lists in Vice, Lit Reactor, and Entropy.
His first novel Mira Corpora, published in 2013, was a Finalist for the Los Angeles Times Book Prize and featured on numerous "Best of the Year" lists.
His short fiction has appeared in numerous publications and he's the playwright of six plays. He holds an M.F.A. from NYU and is the recipient of several fellowships.