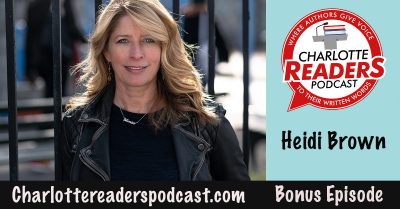 Bonus: Heidi Brown – The Power of Introversion – LIVE
In today's LIVE episode, we meet author Heidi Brown, who writes for and about lawyers and anyone interested in understanding and tapping into the superpower of introversion, with her book "The Introverted Lawyer: A Seven-Step Journey Toward Authentically Empowered Advocacy."
Charlotte Readers Podcast is sponsored by Charlotte Mecklenburg Library.
Learn More About This Episode
Learn More About This Episode
In today's LIVE episode, we meet author Heidi Brown, who writes for and about lawyers and anyone interested in understanding and tapping into the superpower of introversion, with her book "The Introverted Lawyer: A Seven-Step Journey Toward Authentically Empowered Advocacy."
Her book champions the valuable gifts that introverted, shy, and socially anxious individuals can contribute to the legal profession—including active listening, deep thinking, empathy, careful legal writing, creative problem-solving, and thoughtful communication.
The second half of the book attacks the "Fake it till you make it!" or "Just do it!" or "Get over it!" mentality. Instead, "The Introverted Lawyer" counsels that we should do the opposite: "Just be it." Let's be our quiet impactful selves, and transform the legal profession. But it's good advice for writers, too, as well as anyone who finds that they draw their energy and can recharge best when they retreat to their quiet places, whether it be a library, book store, quite beach or remote mountain stream.
We start first with Heidi reading a short section that explains the differences between introverts and extroverts.