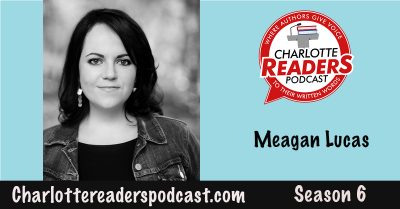 "Songbirds & Stray Dogs"
In today's episode, we meet Meagan Lucas, author of "Songbirds & Stray Dogs."
Charlotte Readers Podcast is sponsored by Charlotte Mecklenburg Library.
Learn More About This Episode
Learn More About This Episode
In today's episode, we meet Meagan Lucas, author of"Songbirds & Stray Dogs."
Step Post, Columnist with LitReactor, says of the book: "Quite possibly my favorite debut novel of the year. 'Songbirds and Stray Dogs' has everything I love about Southern fiction—atmosphere, a deep attention to place and, most importantly, tough, unforgettable characters, spearheaded by the indomitable Jolene. Meagan Lucas is the very definition of a badass, female grit lit author."
Meagan starts the show with a reading from early in the book where the protagonist's religious guardian aunt reminds her who she belongs to, and by that, she means Jesus.