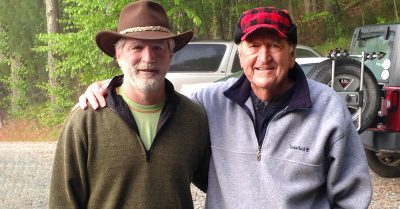 Dedication Story and Season 2 Preview
In this episode, we hear stories about the life of Ham Wade, to whom Season 2 is dedicated, and we get a preview of the 12 authors who will give voice to their written words this season.
Charlotte Readers Podcast is sponsored by Charlotte Mecklenburg Library.
Learn More About This Episode
Learn More About This Episode
In this episode, we hear stories about the life of Ham Wade, to whom Season 2 is dedicated, and we get a preview of the 12 authors who will give voice to their written words this season.
The first author episode of Season 2 will feature author Tommy Tomlinson, finalist for the 2005 Pulitzer prize in commentary, reading from and discussing his new book: The Elephant in the Room: One Fat Man's Quest to Get Smaller in a Growing America.
Next up is Linda Phillips, an author who writes poetry and novels in verse. Linda is the author of several novels, including Crazy, a Young Adult novel in verse about a young girl who truly believes that her mother belongs in a nut house.
In our third episode, we move from one crazy world to another. We meet author JD DuPuy, who co-authored a book guaranteed to make you laugh. It's called Poetic Justice: Legal Humor in Verse.
In our fourth episode, we run head-long into a family's story of cocaine, race, and ambition in the New South. They say truth is often stranger than fiction and this true story of a drug dealer's life in Charlotte is no exception. The book is called Money Rock and in it, author Pam Kelley pulls back the curtain to reveal a Charlotte history that is little known and not discussed enough.
In our fifth episode, we meet author Gilda Syverson, a member of a large Italian-American family from upstate New York that she says grows exponentially each year. This large Italian-American family has its roots in Sicily, which led to Gilda's quest to learn more about her past and to her award-winning memoir: My Father's Daughter: From Rome to Sicily.
In our sixth episode, we meet Randell Jones, author of several non-fiction books, including In the Footsteps of Daniel Boone, Before They Were Heroes at Kings Mountain andFrom Time to Time in North Carolina. Randell reads an inspiring account about the battle of Kings Mountain, which turned the tide in the Southern campaign to win the revolutionary war and then takes us into the backcountry with readings about Daniel Boone.
In our seventh episode, we meet author Rosie Molinary, activist for low-income families and young Latinas and author of many writings featured in a wide variety of magazines. Rosie first reads from her book: Hijas Americanas: Beauty, Body Image and Growing Up Latina. She then expands on her message of being true to one's self in Beautiful You: A Daily Guide To Radical Self-Acceptance.
In our eight episode, we meet Bud Schill, co-authorof Not Exactly Rocket Scientists and other stories. The book is what it sounds like, fun and entertaining stories about boys doing stupid things. As Pat Conroy said, it's "A great book about friendship, growing up in the fifties and a lost America that will never come again."
In our ninth episode, we meet author Nora Gaskin, who takes us behind the scenes of a true crime story about a murder in Chapel Hill in the 1960s, with her book, Time of Death, and then reads from her recent book, The Worst Thing. With Nora's help, we dive headfirst into the realm of suspense, where there is no mystery about who is the deranged perpetrator, just a lot of angst about how things are going to turn out.
In our tenth episode, author Bryn Chancellor takes us into the world of literary fiction. She starts with a story called "All This History at Once" from her collection of short stories that won the Prairie Schooner Book Prize, and spends the rest of the show reading from and discussing her novel, "Sycamore." It's a mystery about a girl who disappears, told with some lyrical twists.
In our eleventh episode, author Cathy Pickens, a mystery writer turned true crime aficionado, reads first from her book about ghostly haunts of Charleston, South Carolina and finishes with stories about sensational crimes committed over the years in Charlotte. She reads and discusses stories about murdered bikers, fraudulent evangelists, a serial killer, the infamous Loomis Fargo heist and a woman tried in the 1920s called Razor Girl.
In the twelfth and final episode of the season, we spend time with author Ann Campanella, twice recipient of the Poet Laureate Award from the North Carolina Poet Society. Ann reads a poem called "How to Grieve," and then follows this poem with readings from and discussion about her award-winning memoir: Motherhood: Lost and Found. The book reveals the emotional journey she took with a mother who suffered from Alzheimers, while dealing with the difficulty of having a baby given her predisposition to miscarriage.