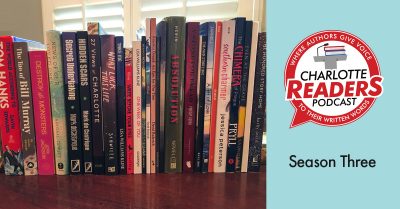 "What's Coming in Season 3"
In today's episode, we meet Brian Lafontaine, a Charlotte actor and podcast host of "You May Have Seen," a show where Brian explores behind the scenes stories with actors you may have seen in your favorite television shows and movies, but you probably don't know their names. Brian reads "The Deliberation," a short story written by host Landis Wade that won the 2016 North Carolina State Bar short story contest. Brian also talks about acting and his podcast and then we answer the question: "What's Coming in Season 3?"
Charlotte Readers Podcast is sponsored by Charlotte Mecklenburg Library.
Learn More About This Episode
Learn More About This Episode
In today's episode, we meet Brian Lafontaine, a Charlotte actor and podcast host of "You May Have Seen," a show where Brian explores behind the scenes stories with actors you may have seen in your favorite television shows and movies, but you probably don't know their names. Brian reads "The Deliberation," a short story written by host Landis Wade that won the 2016 North Carolina State Bar short story contest. Brian also talks about acting and his podcast and then we answer the question: "What's Coming in Season 3?"
The political environment of 2016 was the inspiration for "The Deliberation." The year was one of those unwelcome times in North Carolina for gay and transgender individuals after the legislature passed a law that reversed the city of Charlotte's effort to extend protections to them. Sometimes referred to as the bathroom bill, HB2 brought national criticism to the state and rode a wave of religious freedom bills in state legislatures across the country. Depending on one's point of view, such laws either protected the religious freedoms of business owners to operate within their faith or they legislated discrimination against the LGBTQ community.
After the reading, we discuss Brian's acting career, his podcast and then we talk about what's coming in Season 3.
We have 18 talented authors in 14 episodes in Season 3 who read and talk about their work. We have a wide variety of genres and voices. Here's the list:
May 7             Gavin Edwards – New York Times best-selling author tells real-life stories in his books about celebrity actors Tom Hanks and Bill Murray.          
May 14           Kathy Izard – Live Center City Podcast on The Hundred Story Home– Breaking ground to house the chronically homeless in Charlotte.
May 21           Jessica Peterson and Rick Pryll– Romance is unleashed in Jessica's Charleston Heat series and Rick's The Chimera of Prague.
May 28           Mark de Castrique– Prolific mystery novelist puts the FUN in Funeral with his Burying Barry andSam Blackman series.
June 4             Abigail Dewitt– News of Our Loved Ones is literary fiction about family, love and loss against the backdrop of WWII France
June 11           Greg Jarrell – Pastor and community activist addresses race, poverty and life in Charlotte's Enderly Park in A Riff of Love: Notes on Community and Belonging
June 18           Miriam Herin and ChristyHallberg –Essays on Charlotte refugees, Mercy and Rock Star Freddie Mercury and a Nazi death camp literary mystery
June 25           Kathryn Schwille– What Luck, This Life is literary fiction inspired by ordinary lives on the ground after the Space Shuttle Columbia disaster
July 2              David Radavichand Dede Wilson– Poetry books where the poems connect to tell complete stories – America Abroad: An Epic of Discovery and Eliza: The New Orleans Years
July 9              Jeff Jackson– Destroy All Monsters– An epidemic of violence attacks the Punk Rock world in this literary mystery – And Jeff's music, too
July 16            Lisa Saunders – The life of one of the first female Episcopal priests –Generosity and Grace, Even At The Grave
July 23            David Postonand Alice Osborn– Socially Conscious Poetry, Essays and Songs
July 30            Lisa Kline– One Week of You, a Young Adult novel with a humorous take on young love – And short essays, too
August 6         Martha Kearse– The Sun is Up – A White Minister Speaks on White  Privilege