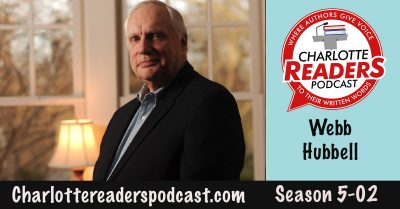 "The East End"
In this Charlotte Readers Podcast episode, we meet Kathy Izard, author of the award-winning book: The Hundred Story Home: A memoir about finding faith in ourselves and something bigger. The "something bigger" in the title – that thing Kathy found faith in – was battling chronic homelessness in Charlotte, and for Kathy, this mission came in the form of a challenge.
Charlotte Readers Podcast is sponsored by Charlotte Mecklenburg Library.
Learn More About This Episode
Learn More About This Episode
In today's episode, we meet author Webb Hubbell, whose recent Jack Patterson legal thriller is "The East End."
Bill Clinton, 42nd President of the United States and co-author of "The President Is Missing," says that "The East End is a powerful, authentic thriller set in a real place, with a story about the real health care needs of people who can't afford it and the real danger to good people when public corruption threatens the rule of law and respect for facts." He calls it "a great read and an important warning."
We start the show with Webb reading from early in the book where attorney Jack Patterson is facing a life and death situation for unexplainable reasons.