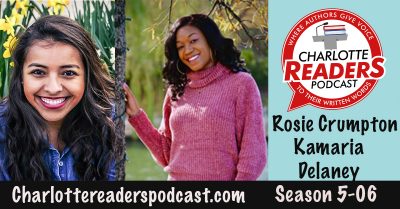 "All I Left Unsaid" and "Soul PWR"
In today's episode, we meet Rosy Crumpton, author of "All I Left Unsaid: A Latina's Journey Toward Truth," and Kamaria Delaney, author of the poetry anthology, "Soul PWR."
Charlotte Readers Podcast is sponsored by Charlotte Mecklenburg Library.
Learn More About This Episode
Learn More About This Episode
In today's episode, we meet Rosy Crumpton, author of "All I Left Unsaid: A Latina's Journey Toward Truth," and Kamaria Delaney, author of the poetry anthology, "Soul PWR."
In Rosy's novel tinged with much personal truth, an idyllic childhood in Panama is disrupted when a mother moves her child to the United States with a man who is not the child's father and after many traumas, the child grows up and tries to find her way home to the family she left behind. Ultimately, the author is able to celebrate her Panamanian culture while exploring themes of family, home and the secrets that divide.
Kamaria Delaney defines "Soul PWR" as all things that make your soul smile, your heart flutter, and empower you to keep going." In her poetry anthology, Kamaria celebrates her black heritage with poems with a common theme: "Never be afraid to soar, for there is freedom in the leap."
We start the show with Kamaria reading her poem, "For the Dreamers" and Rosy reading about college graduation, where a dream is fulfilled despite much adversity.