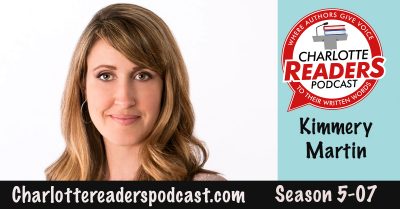 "The Antidote for Everything"
In today's episode, we meet emergency room doctor turned medical fiction writer, Kimmery Martin, whose recent book is "The Antidote for Everything." The New York Times says "Martin leverages her own background as a doctor to great effect throughout."
Charlotte Readers Podcast is sponsored by Charlotte Mecklenburg Library.
Learn More About This Episode
Learn More About This Episode
In today's episode, we meet emergency room doctor turned medical fiction writer, Kimmery Martin, whose recent book is "The Antidote for Everything." The New York Times says "Martin leverages her own background as a doctor to great effect throughout."
In this smart, timely novel, two doctors must choose between treating their patients and keeping their jobs when the hospital instructs doctors to stop treating transgender patients.
We start the show with Kimmery reading from the first chapter of the book, where the female protagonist has started her day by stabbing a man in the scrotum, but as the story opens, we learn that Doctor Georgia Brown has a medically defensible reason for doing so.