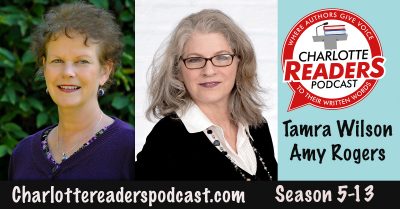 "Idol Talk"
In today's episode, we meet authors Tamra Wilson and Amy Rogers, contributors to the collection of stories called: "Idol Talk: Women Writers on the Teenage Infatuations That Changed Their Lives."
Charlotte Readers Podcast is sponsored by Charlotte Mecklenburg Library.
Learn More About This Episode
Learn More About This Episode
In today's episode, we meet authors Tamra Wilson and Amy Rogers, contributors to the collection of stories called: "Idol Talk: Women Writers on the Teenage Infatuations That Changed Their Lives."
The book was a Finalist for the Eric Hoffer Book Award. It's cover features the boy band, Herman's Hermits, and the inside pages are filled with essays about pop culture icons. We find stories about singers like Elvis Pressley, The Beatles, Sam Cooke, Paul Revere and the Raiders, Jim Morrison, Woody Guthrie, Paul Simon, Bob Dylan, Joni Mitchell, Cher, Janis Joplin, Bobby Orr, Diana Ross and Michael Jackson. But there are TV shows and actors, too, such as "The Man from Uncle," "The Mod Squad," Harrison Ford, Johnny Depp, Jennifer Beal, Leonard DiCaprio, Bogart and Bacall, Dick Van Dyke and more.
We start the show with Tamra and Amy reading from the Introduction of the book, which is titled "The Truth Behind the Sighs."