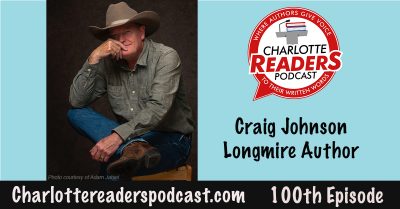 Walt Longmire Novel Series
In today's 100th episode, Landis visits with one of his favorite authors and writing instructors, Craig Johnson, author of the New York Times bestselling mystery series which became the basis for the hit Netflix original series "Longmire."
Charlotte Readers Podcast is sponsored by Charlotte Mecklenburg Library.
Learn More About This Episode
Learn More About This Episode
In today's 100th episode, Landis visits with one of his favorite authors and writing instructors, Craig Johnson, author of the New York Times bestselling mystery series which became the basis for the hit Netflix original series "Longmire."
This episode was recorded in a cross-country remote podcast that gives new meaning to the phrase, "Social Distancing," because Craig Johnson participated from his ranch in Ucross, Wyoming, population 25, while Landis was sheltering-in-place in his home in Charlotte.
Craig Johnson is the recipient of the Western Writers of America Spur Award for fiction, the Mountains and Plains Booksellers Award for fiction, the Nouvel Observateur Prix du Roman Noir, and the Prix SNCF du Polar. His novella Spirit of Steamboat was the first One Book Wyoming selection.
Never short of words to put on the page or share in person, Johnson gave liberally of his time, discussing his ranching and writing, his first book, the book series, his last three books, his characters, the Netflix series and the actors, Longmire Days, writing tips and what's coming next.
Landis also offers a quick glimpse at what's coming in Season 6 and authors who will be appearing in May and June on the Under the Covers show.