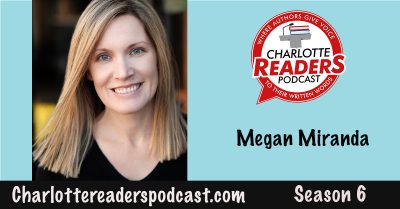 "The Girl From Widow Hills"
Inspired by the story of Baby Jessica, who fell down a well in 1987 when she was 18 months old and was trapped for 58 hours, Miranda tells the story of "the girl from Widow Hills."
Charlotte Readers Podcast is sponsored by Charlotte Mecklenburg Library.
Learn More About This Episode
Learn More About This Episode
Inspired by the story of Baby Jessica, who fell down a well in 1987 when she was 18 months old and was trapped for 58 hours, Miranda tells the story of "the girl from Widow Hills."
Arden Maynor was just six years old when she was swept away while sleepwalking during a terrifying rainstorm. Against all odds, she was found alive, clinging to a storm drain. Fame followed, with fans and creeps and stalkers, and every year, the anniversary brought them and the media attention back. Arden changed her name and disappeared from the public eye, but just before the twentieth anniversary of her rescue, she begins sleepwalking again, and one night she wakes with the corpse of a man she knows from her previous life at her feet.