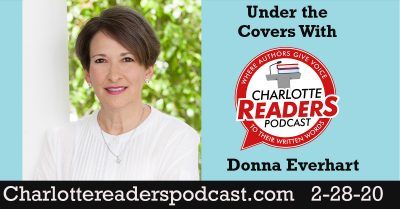 "The Moonshiner's Daughter"
In this Under the Covers episode, we meet Donna Everhart, USA Today bestselling author, whose fourth and most recent novel is "The Moonshiner's Daughter."
Charlotte Readers Podcast is sponsored by Charlotte Mecklenburg Library.
Learn More About This Episode
Learn More About This Episode
In this Under the Covers episode, we meet Donna Everhart, USA Today bestselling author, whose fourth and most recent novel is "The Moonshiner's Daughter."
The starred review in Publisher's Weekly says that "Everhart's story of self-discovery, rife with colorful characters and a satisfying twist, will thrill readers."
Recognized as a Southern Literary Review January Book of the Month, The Moonshiner's Daughter evokes the singular life of sixteen-year-old Jessie Sasser, a young woman in 1960s North Carolina determined to escape her family's past. Generations of Sassers have made moonshine in the Brushy Mountains of Wilkes County, North Carolina. Their history is recorded in a leather-bound journal that belongs to Jessie Sasser's daddy, but Jessie wants no part of it. As far as she's concerned, moonshine caused her mother's death a dozen years ago.