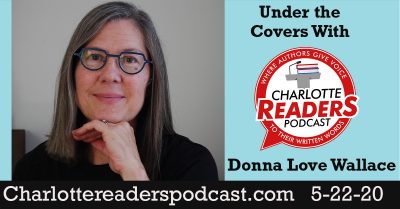 "Between the Stones"
In this Under the Covers episode, we meet Donna Love Wallace, author of her debut poetry chapbook, "Between the Stones."
Charlotte Readers Podcast is sponsored by Charlotte Mecklenburg Library.
Learn More About This Episode
Learn More About This Episode
In this Under the Covers episode, we meet Donna Love Wallace, author of her debut poetry chapbook, "Between the Stones."
1 in 8 women will experience invasive breast cancer sometime during their life. With candor and a full range of emotion, Wallace navigates her way in poetry through disparate places and the people that occupy them: the biopsy suite, the grocery store, her closet and a tattoo parlor 350 miles from home.
"The poet captures dread with such precision on the page that you experience her off-stage desperation. Instead of recording emotions, [her] surreal scenes make you feel. When I finished Between Stones for the fourth time, I went out to pick up the morning paper. I noticed that my arms were flapping. I realized that Wallace's magic had seized my subconscious mind. I wanted to fly."—Michael Gaspeny, author of Re-Write Men and Vocation.