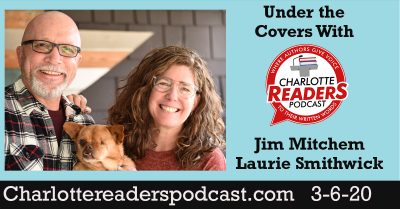 "Gone Dogs: Tales of Dogs We've Loved"
In this Under the Covers episode, we meet Jim Mitchem and Laurie Smithwick, the creators of the book, "Gone Dogs: Tales of Dogs We've Loved."
Charlotte Readers Podcast is sponsored by Charlotte Mecklenburg Library.
Learn More About This Episode
Learn More About This Episode
In this Under the Covers episode, we meet Jim Mitchem and Laurie Smithwick, the creators of the book, "Gone Dogs: Tales of Dogs We've Loved."
"Gone Dogs" isn't one story, by one author, about one dog. It's a collection of 50 stories by 50 authors from around the world sharing stories about the dogs of their lifetimes. The project was born from a blog post Jim Mitchem wrote about his dog passing. It was a simple tribute that generated a strong response and made him realize that all dog owners have something important in common — eventually, we must all say goodbye.
Jim, a writer, and Laurie, a graphic designer, put out a call for entries, received hundreds of submissions from all over the world, chose 50 of the most poignant and uplifting pieces, then edited and published this anthology.
In 2014, when Jim's dog Sydney died, he was inspired to compile a book of stories about 'gone dogs' from people everywhere. Laurie was one of the first people he reached out to. Soon after, the pair agreed to invest their time and energy into the book project. The result after five years of work is the remarkable product you hold in your hands—a book about dogs. But really, a book about love