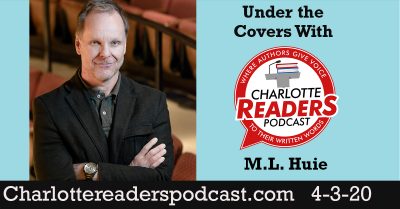 "Spitfire"
In this Under the Covers episode, we meet M.L. Huie, author of "Spitfire."
Charlotte Readers Podcast is sponsored by Charlotte Mecklenburg Library.
Learn More About This Episode
Learn More About This Episode
In this Under the Covers episode, we meet M.L. Huie, author of "Spitfire."
In Publisher's Weekly Starred Review, "Spitfire" is described as full of "Vibrant characters, international intrigue, gritty action, and a wittily acerbic Ian Fleming, too—who could ask for more?"
The book takes us back in time, shortly after the end of WWII, England, where we meet female spy Livy Nash, given the code name "Spitfire" by the Nazis. The war has betrayed and wounded her emotionally and she is living an unexciting life when she meets the infamous Ian Fleming and gets a new chance to do something meaningful, a top secret  assignment but one that has her retracing old steps that may destroy her.