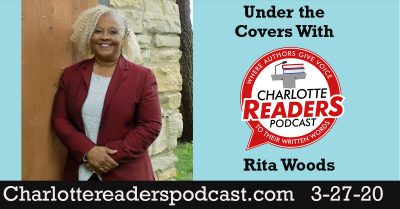 "Remembrance"
In this Under the Covers episode, we meet Rita Woods, author of "Remembrance."
Charlotte Readers Podcast is sponsored by Charlotte Mecklenburg Library.
Learn More About This Episode
Learn More About This Episode
In this Under the Covers episode, we meet Rita Woods, author of "Remembrance."
Library Journal, with its Starred Review says, " …This book deserves to be a breakout hit. Woods's magical realist take on the black female experience will have huge appeal to readers of Marlon James and Tara Conklin."
Rita's website shares that "Remembrance" involves "a rumor, a whisper passed in the fields and veiled behind sheets of laundry… a hidden stop on the underground road to freedom, a safe haven protected by more than secrecy…if you can make it there."
Rita is a Board Certified Internist, currently serving as Medical Director of a Wellness Center that serves one of the largest trade unions in the nation. A former bodybuilder, she lives in suburban Chicago and when she is not busy working or writing, Dr. Woods spends time with her family or at the Homer Glen library where she serves on the Board of Trustees.