The Buzz on Día! 
April is an exciting month at the library as we celebrate Día!  El día de los niños/El día de los libros (Children's Day/Book Day), commonly known as Día, is a celebration every day of children, families, and reading that culminates yearly on April 30. The celebration emphasizes the importance of literacy for children of all linguistic and cultural backgrounds.  (From The Association for Library Service to Children (a division of the American Library Association), About Día, www.dia.ala.org/content/about-día)
In honor of Día, the library is going all out, or rather "bugging" out, in order to provide Charlotte Mecklenburg Library families with fun and exciting bug themed events featuring STEAM components.  Looking for an event near you?  Simply check out our CALENDAR and discover all the fun events happening at a location near you!

These super fun programs all lead up to our large-scale Día event, hosted at Discovery Place on Saturday April 27th in conjunction with their "Arthropod Day".  We are also very excited to announce Margaret Read MacDonald as our guest author for Dia! Margaret is the author of Conejito, Pickin' Peas, The Squeaky Door, Go to Sleep Gecko! and many other folktales and children's picture books.  You can find a list of all of her books HERE!
In the meantime, let's put on our Junior Scientist hats and grab our magnifying glasses because in this month's edition of Kid's Club, we'll be exploring all things creepy crawly through books and fun activities you can do at home!
Welcome Junior Entomologists!
Did you know a person who studies bugs and insects are called entomologists?  That is a fun new word we'll be able to use this month as we go further into our exploration of all things creepy crawly.
To get us started, let's go on a bug hunt! Using the worksheets provided below, see what bugs you can find out in the wild. Think about where you found them.
Did you find them –
In the grass?
Underground or under something, like a rock?
Up in a tree or on a flower?
In your house?!?!?
During your investigation did you find a bug that wasn't listed on the chart?  If so, fill out the What's That Bug? worksheet from The Crafty Classroom to see if you can do some serious entomologist research in order to identify it.
Alright Junior Entomologists!  I think you're ready!
Here are a few supplies you might need for your investigation –
Pencil
Bug/Insect Investigation Chart
Magnifying Glass
A grown-up's permission to explore
Hat and sunscreen (you definitely don't want to get a sunburn!)
Your questioning, researching, super awesome scientific brain!
Happy Bug Hunting!
Resources for your Investigation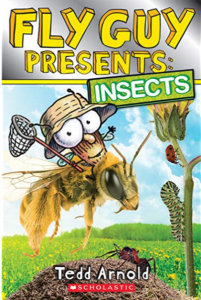 Need a little help trying to figure out that mystery bug you found in your back yard?  Well, Fly Guy is here to help!  Check out this fantastic non-fiction adventure, Fly Guy Presents: Insects by Tedd Arnold, featuring the coolest (and sometimes silliest) fly out there.
Fly Guy takes readers on an exciting journey, identifies a number of fascinating insects, and provides some super interesting facts along the way.  Just click the cover of the book for more information or to PLACE A HOLD!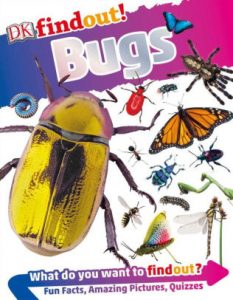 We also have a TON of excellent online resources that can help you with your investigation.  One of my favorites is Dk Findout! Bugs by Andrea Mills.  Get up close and personal with all kinds of bugs and become a creepy-crawly expert with this exciting book full of amazing images, fun quizzes, and incredible information.  To access this title simply click on cover and download your copy from NC KIDS DIGITAL LIBRARY!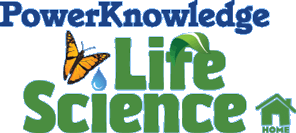 You can also find information using one of our super helpful databases!  My personal favorite is, PowerKnowledge: Life Science.  This is a great resource to help you not only identify those creepy crawlies, but also learn about their life cycles, habitats, and more!
Looking to learn more about bugs and insects?
Click the button below to discover a list of even more exciting titles for budding entomologists!