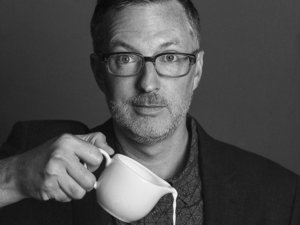 Matt Olin produces moments of human brilliance. He is the owner of Matt Olin Creative, a copywriting, branding and creative consultancy. He is the host of CreativeMornings Charlotte, a breakfast lecture series for the creative community. He is also co-host of Queen City Quiz Show, a series of live games shows designed to help neighborhoods and communities shape the future of the city. Over a 20-year career in theater production in New York and Charlotte, Matt developed and produced over 60 projects for the stage exploring the human condition and our higher purposes. He was a member of the Dodger Theatrical's Broadway Producing team, which received 14 Tony Awards during his tenure. He was Managing Director and Producer of Charlotte Repertory Theater. For many years he was the keyboardist for Shadowflag, a rock touring band. Matt earned an undergraduate degree at UNC Chapel Hill and a MFA from Columbia University.
This episode is perfect for anyone interested in the power and purposes of creativity and a passion-filled life.
IN THIS EPISODE
Matt explains what Creative Mornings is and what happens at CM gatherings.
He shares what Creative Mornings means to him.
He talks about the philosophy that guides production of Creative Morning gatherings and reflects on what he hopes it might become.
He answers what he understands creativity to be and what role he and his team is fulfilling in this moment in his city.
He considers if we are innovating what we need to innovate.
Matt shares a childhood memory that reveals how he feels about accomplishment and recognition.
He reflects on his time in college and how his career ambitions took its course.
He explains a time in his life he calls The Thrash and how it led to the work he is doing now.
He talks about the influence of his wife Sarah Olin and the essential qualities of his marriage.
Matt reveals who is seeks to become and how he hopes to be remembered.
Mark Peres adds a personal word that begins this way, "When I hear Matt Olin talk about bringing people together to enrich the creativity of the city, I'm reminded of a book entitled Integral City: Evolutionary Intelligences for the Human Hive…"