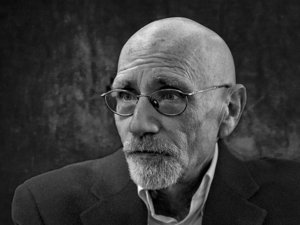 Phillip Larrimore is a visual artist who explores that which is between painting and sculpture and realism and abstraction. His most recent work is creating multi-layered paintings on aluminum screens that he shapes into various forms. His paintings have been shown at many exhibits, including at The Gaston County Museum and CPCC Sensoria.  Phillip is also an essayist, an art critic and a poet. He has written extensively for Charlotte Viewpoint and the Charlotte Observer on literature, theater, music and opera. His poetry has been published in The New Yorker magazine. His artistry extends to botany and designing hundreds of gardens for clients of nurseries. He has co-owned a documentary video business on avant-garde dance performance and a retail cacti and orchid store. Phillip studied at the Corcoran School of the Arts & Design.
This episode is perfect for anyone interested in hearing an artist with an encyclopedic mind and prodigious memory talk about his life and work.
IN THIS EPISODE
Phillip talks about how he thinks of himself, when he is happiest and what haunts him.
He discusses what he and Osip Mandelstam, Paul Klee and Jean Arp have in common.
He describes what we would see when we encounter his work, what holographic imagery has to do with it, and the construction and reconstruction of appearance.
He connects 360 degree thinking to Sufism, Islam and 99 perforated aluminum boxes.
He considers William Blake and the choreography of the placement of figure in painting.
Phillip answers whether he cares about the viewers of his visual art.
Phillip connects the Frieze of the Prophets by John Singer Sargent with being a Trotskyite Jewish boy raised by a Baptist minister.
He references To Kill A Mockingbird, a Ouija board, Edgar Allen Poe and spending time in cemeteries.
He talks about attending the Corcoran School of the Arts & Design and being a member of the Weather Undergound.
Phillip discusses having a nom de guerre, Howard Moss, the  poetry editor of The New Yorker, the poet Elizabeth Bishop, and Alex Liberman, editorial director of Conde Nast.
He shares stories about choreographers Elizabeth Streb, Merce Cunningham and Trisha Brown, the musician John Cage, and the critic Edwin Denby.
Phillip connects chance operations to the I Ching and sea urchins.
He talks about recovering emotionally from being a caregiver during the AIDS crisis.
He discusses converting sorrow into beauty and whether art requires melancholy.
Mark Peres adds a personal word that begins this way, "Sometimes in an interview one misses the obvious because the obvious is hidden in plain sight…"