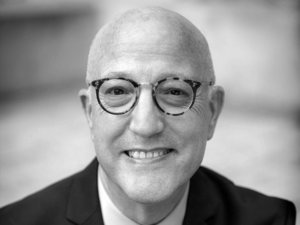 Tom Gabbard sets the stage for the arts and humanities in Charlotte. He is president and CEO of Blumenthal Performing Arts. The Blumenthal manages six performance stages and hosts over a 1000 performances annually. He is a member of the Board of Governors of the Broadway League and a Tony Award voter. He is a recipient of the Samuel J. L'Hommedieu Award for Outstanding Achievement in Presenter Management. Tom serves as President of the Independent Presenters Network, a consortium of 40 leading touring Broadway presenters in North America, Asia and the United Kingdom. He was the founding managing director of Pepperdine University's Center for the Arts, and the executive director of the Arvada Center for the Arts and Humanities in Colorado and the Weidner Center for the Performing Arts in Wisconsin.  Tom holds a B.A. in Music Performance from Pepperdine University and M.B.A. in Arts Management from Golden Gate University.
This episode is perfect for anyone interested in producing and presenting shows that transform people and place.  
IN THIS EPISODE
Tom shares what comes to mind when he thinks of Blumenthal Performing Arts.
He discusses what is less known about the Blumenthal and how it differs from other performing arts organizations.
He outlines the three elements of the Blumenthal mission, what the 25th year anniversary is about strategically, and what big ideas have to do with it.
He reveals how his time is divided as a CEO and where he devotes his focus.
He explains what a producer actually does and the shows he has produced and co-produced
Tom explains why he funds the creation of new work and what informs the planning and scheduling of a season.
He discusses whether his personal taste drives the curation of programming and whether he has a responsibility to respond to the times in which we live.
He references Kinky Boots, Breakin' Convention, Spring Awakening and Rent.
He explains why he did not show the Pulitzer-award winning play August: Osage County.
He talks about whether we are in a golden age of Broadway and co-producing Dear Evan Hansen and The Band's Visit.
Tom addresses perfectionist tendencies and mustering courage to be bolder.
He describes growing up in San Jose and how being a 'child of the sixties' influences him today.
He shares a pivotal moment in 4th grade and what developed of his aesthetic taste.
He answers whether he would leave Charlotte for New York or London.
Tom reveals the best part of what he does.
Mark Peres adds a personal word that begins this way, "Beauty.  War. Religion. Love. Loss. Life. Death. Redemption.  The human condition, in all its wonder, is at the heart of the arts and humanities…"