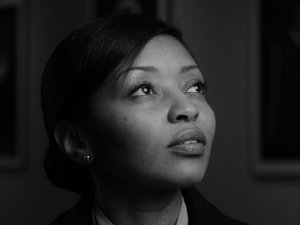 Tiffany Capers is an advocate for equity and possibility. She is Managing Director for Growth, Development and Partnership for Teach for America Charlotte. She also helps lead and co-facilitate Black Lives Matter Charlotte, an initiative of The Charlotte Post Foundation, which seeks to raise awareness and develop actions to address racial and ethnic disparities. Tiffany previously served as Vice President of Community Programs & Civic Leadership Initiatives at the Foundation For The Carolinas. She is a visual artist and contributing columnist to TheCharlotte Observer, and has been recognized by YWCA Charlotte Women of Achievement as a Community Champion. Tiffany holds a B.A. in Psychology from the University of South Carolina and a M.A. in Industrial/Organizational Psychology from the University of North Carolina Charlotte.
This episode is perfect for anyone interested in Black Lives Matter and issues of education, social justice and being who we are.  
IN THIS EPISODE
Tiffany explains the mission of Teach for America and what she does and why.
She talks about Black Lives Matter and the four critical areas and three levels it addresses.
She describes the relationship between the national Black Lives Matter movement and the Charlotte initiative.
Tiffany shares the message of Black Lives Matter, why it is necessary and what people don't understand about Black Lives Matter.
She answers what it mean to be woke and who decides who is woke and the marker to be sufficiently woke.
She shares her thoughts about the Charlotte Mecklenburg Opportunity Task Force and the conclusions of the Leading on Opportunity report.
Tiffany reflects on growing up in South Carolina, her mom and dad, the core values that formed her, and how she is like her parents.
She discusses what she did for the City of Charlotte and whether The Foundation For The Carolinas is woke.
She talks about painting, being a mom, and whether she is who she wants to be.
Tiffany reveals what she thinks about in the middle of the night.
Mark Peres adds a personal word that begins this way, "There are 'tells' in every conversation…a word spoken or an unconscious act that reveals something true…"