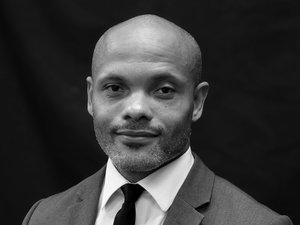 Toussaint Romain is a public servant devoted to equity and justice. He is a former Assistant Public Defender in the Charlotte-Mecklenburg Public Defender's Office, where he most recently represented indigent clients charged as habitual felons. He conducted over 40 jury trials and many more bench trials over a ten-year period, handling cases ranging from first-degree murder to domestic violence crimes. Toussaint is an adjunct professor teaching courses on criminal justice and criminology at The University of North Carolina at Charlotte. He has received numerous honors and awards, including the Nish Jamgotch, Jr. Humanitarian Award for exceptional service to the Charlotte-Mecklenburg community, the Charlotte magazine Charlottean of the Year award, and the Leadership Charlotte Schley R. Lyons Circle of Excellence Award. He earned a Bachelor of Arts degree in Criminal Justice at UNC Charlotte and a J.D. at Regent University School of Law.
This episode is perfect for anyone interested in criminal justice, protest, privilege and wealth, and to creating community change. 
IN THIS EPISODE
Toussaint announces his run for Charlotte-Mecklenburg District Attorney.
He answers what is motivating him to run and why he is qualified for the position.
He explains why he is running for office now and the risk he is taking.
He shares moments of protest during his life that have defined him.
Toussaint shares how he became 'the man in the white shirt' during the Keith Lamont Scott protest.
He talks about keeping the peace between police officers and protesters.
He reflects on what would have happened had he not been at the Keith Lamont Scott protest.
He considers what draws him into moments of high-risk conflict.
Toussaint discusses the profile he has in Charlotte, the message he wants to deliver,and the actual change he wants to see.
He shares the story behind his name and how it inspires him.
He talks about the boarding school he attended, the values it reinforced in him, and the skills it taught him that are relevant to his work today.
He discusses what privilege means to him and the shame he has overcome.
He explains why he hasn't pursued wealth and the question that he poses himself.
Toussaint reads his favorite prayer. 
After the conversation, host Mark Peres adds a personal word that begins this way, "When I sat down with Toussaint, he surprised me. I had prepared to ask him questions about his work as a public defender…"