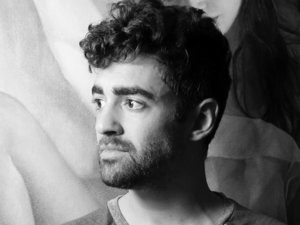 Nick Napoletano is a painter, muralist, and designer known for hyperrealist works brimming with allegory and symbolism. He uses the human figure as "a vehicle to explore and document various facets of the human condition as they relate to both the individual and the universal whole." His installations are meant to function as a mirror, identifying a truth about the community, while paving the way for positive change. His work can be found in galleries and museums internationally, including the collections of Amway and the New Britain Museum of American Art. He recently exhibited at Jerald Melberg Gallery and at the Mint Museum, and he is currently painting a series of large-scale exterior murals in the city of Charlotte, North Carolina.  Nick has expanded his work into the fields of augmented and virtual reality. He earned a Bachelor's of Fine Arts at the University of Hartford, Connecticut.
This episode is perfect for anyone interested in figurative painting, public art, augmented and virtual reality, and the challenges and rewards of 'a monkey mind.' 
IN THIS EPISODE
Nick describes the three different trajectories of his work.
He explains how his art reflects Mannerism and the High Renaissance.
He discusses measuring himself against Renaissance masters.
He considers whether his art challenges the viewer, the illustrations of Norman Rockwell, the role of public art, and whether it is enough for public to just be beautiful.
Nick talks about one of his murals and the idea that informs it.
He answers whether he prefers public or private art commissions, the challenge of his 'monkey mind,' and what an unfettered public art project might be.
He describes the work of Two Form, a design collaboration group merging our world with augmented and virtual reality.
He explains how he paints augmented reality components onto sculpted spaces to enhance dialog between the work and viewers.
Nick talks about his work creating digital worlds using virtual reality.
He shares how Nordic and biophilic design influences his art.
He shares what he remembers seeing as a child and how his interest in figurative work developed.
He considers what it means being an artist and moving through the world differently.
Nick talks about living and painting in New York, taking a tour of the south, and what Snug Harbor has to do with why he lives in Charlotte.
He discusses a current recurring dream, a question on his mind, what delights him, what truth he wants revealed, a vision he has, what he is certain about, what draws him in, and what matters most.