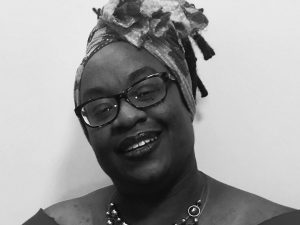 Kali Ferguson is a story teller and cultural educator. She performs original poems, songs and fractured fairy tales in English and Spanish in classrooms, museums, churches, conferences and festivals. Kali shares cultural literacy through the Latin American and African diaspora tradition. She is the owner of CommuniCulture, a cultural education and teaching artist platform, and the founder of the African American Latinx Bridge Building Awareness program. She has served as a consultant, curriculum creator and facilitator with the American Friends Service Committee, a Quaker organization that promotes lasting peace with justice as an expression of faith in action. Kali earned a B.A. in Spanish Education from the University of North Carolina at Greensboro.
In this episode we explore a fractured fairy tale, the wisdom of joy, growing up in a prominent family, and a story of psychiatric illness and health. 
IN THIS EPISODE
Kali describes one of her favorite fractured fairy tales.
She shares why the story of Blancaflor: La Negra is meaningful to her.
She talks about the importance of controlling the narrative.
She notes the particular cultural wisdom that she believes is most vital to share.
Kali discusses her work as a story coach and cultural educator.
She explains the difference between a personal parable and a personal brand.
She talks about growing up as the daughter of a prominent attorney and what her parents taught her.
She describes a moment that triggered a mental health crisis.
Kali reflects on being diagnosed as manic depressive and how perceptions and limitations have affected her life.
She explains her current diagnosis of Schizoaffective.
She addresses the distinction between mental illness and mental health.
She identifies where she thinks of herself on the mental health spectrum.
Kali answers what delights her, what she is curious about, what gives her hope, and what she is certain about.