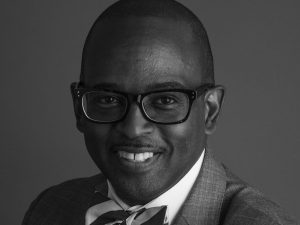 Michael DeVaul is Senior Vice President and Chief Social Responsibility Officer for the YMCA of Greater Charlotte. He is responsible for strategic alliances, accountability and data measurement, advocacy & public policy, global partnerships, volunteerism, and diversity and inclusion strategies. He began his career at the McGaw YMCA in Evanston, Illinois where he served for just over 15 years before joining the YMCA of Greater Charlotte in 1999. Michael was most recently honored as a Champion of Change by the White House in 2014 for his efforts in community building. Michael earned a bachelor's degree in human services from Columbia College in Columbia, Missouri.
This episode is perfect for anyone interested in the circumstances of black and brown boys, connecting dots, code-switching and a personal story of love and humanity. 
IN THIS EPISODE
Michael explains diversity and inclusion work at the YMCA.
He identifies the issue on his mind and what he wants to focus on during his remaining years at work.
He addresses the circumstances of black and brown boys in Charlotte.
He shares how the YMCA is helping black and brown boys.
Michael reveals what he is good at and the dots he connects at work.
He discusses the historical wave we are undergoing and leaders who are emerging.
He talks about the difference between charity and philanthropy.
He addresses whether the YMCA is a Christian organization and the image of 'White Jesus.'
Michael reflects on growing up in Evanston, Illinois and what his neighborhood taught him.
He remembers his parents and what he learned from them.
He considers how public school integration shaped him.
He shares a defining moment for him during his teenage years.
Michael talks about being the 'ultimate code-switcher' and having double-consciousness.
He equates playing baseball in college with the work he is doing today.
Michael explains what it means to be an Omega man.
He reflects on working at the YMCA for 32 years and why he loves what he does.
He talks about his marriage to his wife and how they met.
He discusses 'the story of humanity' and holding each other with love and affection.
Michael reveals what he wants his sons to know.