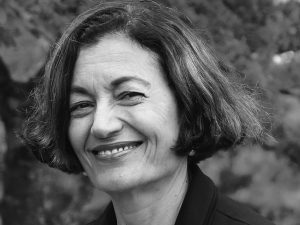 Fatma Mili is Dean of the College of Computing and Informatics (CCI) at the University of North Carolina at Charlotte (UNC Charlotte). Before joining the faculty at UNC Charlotte in 2017, Fatma was a professor of computer science at Purdue University, where she was the founder and director of the Center for Trans-Institutional Capacity Building and Educational Equity in STEM at the Purdue Discovery Park. She founded the Purdue Polytechnic Institute, an academic educational research institute to foster modern, transdisciplinary education. Her interests include spearheading new curricular innovations to equip students to shape the future. Fatma earned a bachelor's degree in computer science from Universite Villetaneuse and a Ph.D. in Computer Science from Pierre and Marie Curie University in Paris, France.
This episode is perfect for anyone interested in computer science, artificial intelligence, big data, and the values we need to shape the future. 
IN THIS EPISODE
Fatma describes the College of Computing and Informatics (CCI) at UNC Charlotte.
She explains what she does as dean of CCI.
She discusses the three transformative values at the core of CCI.
She defines informatics, big data, artificial intelligence and machine learning.
Fatma answers where we are right now in the development of artificial intelligence.
She addresses machine consciousness and whether computers can feel emotions.
She considers an argument made by Yuval Harari of Oxford University about how artificial intelligence can give rise to tyranny.
She outlines two ways humanity can respond to disruption.
Fatma talks about human biases programmed within computer systems, centralized versus decentralized processing of information, the transferring of human decision-making to algorithms, and the 'data industrial complex.'
She answers whether CCI is contributing to the weaponization of data.
She identifies what values should guide whether someone should do what they can do.
She reflects on growing up in Tunisia and learning Arabic, French and English.
Fatma remembers her time studying computer science in Paris.
She talks about teaching at Oakland University in Michigan, her scholarship, and redefining computer science education at Purdue University.
She answers why she came to work at UNC Charlotte.
Fatma reveals what is most important to her.