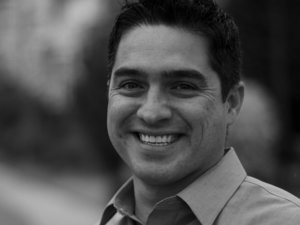 Jack Ossa helps people create impactful experiences through the power of design. He is the founder of and principal architect at Ossa Studios, an architecture, branding and web design firm. He previously worked as a senior project architect at Gensler, an international integrated architecture, design, planning and consulting firm. Jack has worked on dozens of commercial, mixed-use and residential projects, and provided principal design for the worldwide corporate headquarters for SPX Corporation and the offices of The Duke Endowment. He also previously worked at DMR Architecture and at McClure Nicholson Montgomery Architects. Jack earned his bachelor's degree in architecture from the Jorge Tadeo Lozano University in Bogota, Columbia.
This episode is perfect for anyone interested in architecture, design, a journey of immigration, risk and achievement.
IN THIS EPISODE
Jack explains what he does as an architect and designer.
He talks about his work as project architect on the offices of The Duke Endowment.
He shares the process an architect goes through to give shape to an idea.
He explains what happens when a client doesn't know what they want.
Jack identifies which steps in the design process he enjoys and what he likes most about architecture.
He addresses whether there is a distinction between design and architecture.
He explains what he means by 'the power of design.'
He discusses how design principles can help someone live their life and the connection he sees between design and relationships.
Jack discusses a manifesto he wrote and why he goes about 'mapping his mind.'
He talks about growing up in Medellin and Bogota, Colombia, playing music in a heavy metal rock band, and his introduction to architecture.
He reveals the two factors that motivated him to want to move to the United States.
Jack describes his journey to the United States, his sense of the power that directs him, and a place he visited that he decided to never leave.
He tells the story of his status when he arrived, the moment he met his future wife, cleaning windows and mopping floors, and what he was certain about at the time.
He talks about how he got his first job as an architect, the craziest week of his life, and the phone call that changed everything.
He reveals what his experience as an immigrant taught him, his rise to working for one of the best architectural firms in the world, and where the courage came from for the decision he made next.
He reveals the dream that has driven him and describes the year he has had since launching his firm.
Jack shares the projects he is working on now, the vision he has for his company, and what he wants his children to know.
Mark Peres adds a personal word that begins this way, "I listened to Jack amazed: at his story, his ambition, his gratitude and his grit. I came away asking: what is a larger vision I can have for myself? Am I taking enough risk…"