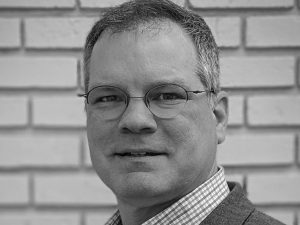 Eric Davis is a producer, writer, director and photographer. He works with businesses and non-profit organizations to create media content for television, web and live events. He is currently affiliated with Susie Films, a producer of cable television programs and corporate media. Eric previously served as Vice President of Broadcasting and Content for WTVI, Charlotte's PBS station. During his tenure, WTVI won 7 Mid-South Region Emmy awards, including twice for Cultural Documentary. He is on the board of the 100 Words Film Festival and serves on the Executive Committee of the Mecklenburg County Boy Scouts of America. Eric earned a B.Sc. degree in Telecommunication Management from the University of Florida and an M.B.A. from the University of North Carolina at Charlotte.
This episode is perfect for anyone interested in producing media, telling stories, helping other people do better, Florida, wrestling, hot dogs, marching bands and football.
IN THIS EPISODE
Eric describes what he does as a producer, what makes for a good story, and he goes about getting it.

He tells a story about telling a story in Galway, Ireland, why storytelling is so central to the human experience, and the value he brings as a storyteller.

He explains what he means by the phrase 'if you can't fix it, feature it.'

Eric answers whether the value of professional producing has increased or decreased in a world where everyone is a content creator.

He talks about growing up in Florida and why the people there are weird.

He discusses his path attending four colleges, studying telecommunication management, selling radio on-air advertising and finding his way to Charlotte.

Eric answers what was difficult and what he loved as Vice President of Broadcasting and Content at WTVI, Charlotte's PBS station.

He discusses helping other people do better and what he has learned about creativity.

Eric answers a lightning round about Dusty Rhodes, hot dogs, speed traps, the Florida Gators, Dan Marino, marching bands, college football games, and the Boy Scouts of America.