Brad Schmitt is the Marketing Director for Skookum, a digital product firm here in Charlotte and he wears many hats as he oversees all aspects of the company's marketing, solves problems, and quickly takes plans from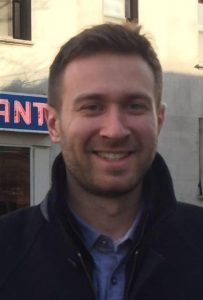 idea to implementation. He spent 11 years as the Area Director of Young Life, a Christian ministry for students, where he was a jack of all trades managing everything from events and marketing; to fundraising and donor care; to building, launching, and marketing a new data collection product called ClubCard. Going through the entire product life cycle with ClubCard was great preparation for his current role at Skookum.  
Show Notes:
Interview conducted by LaCreasha McCloud
3:00 Interned at Skookum and given a chance to prove skills. Turned away from getting a Maters in Business Administration (MBA). 
4:15 Inspiration from entrepreneur Dad and working with a nonprofit feels very much like you own a business; a "entrepreneurial mindset". There are a lot of elements that you must do for yourself.  
6:00 Complete digital products firm and able to take best practices from one industry and apply it to another.  
6:21 What is SEO? Search Engine Optimization  
6:40 Work culture is very important. People first mentality and trying out new, fresh ideas. Flexibility and work/life balance is key.  
8:40 DayShift program 
11: 40 Community Tech talks 50-150 people to hear about an interesting tech topic. https://skookum.com/events  
17:25 "Have fun and enjoy the ride. Don't stress out too much." Advice to your younger self.  
18:15 Financial responsibility.