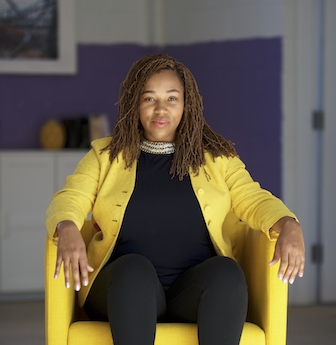 Eric Hartman: Hello, and welcome to Queen City Profile. A podcast brought to you by the Charlotte Mecklenburg Library. This is the show where we bring in prominent members of the Charlotte community for a conversation. My name is Eric Hartman and with me today is Enovia Bedford.
Enovia Bedford: Hello.
E.H. : Enovia Bedford works with Partnerships and is the logistics director for Black Tech Charlotte. Working in a startup environment and Enovia's entrepreneurial approach to business has led to a 12 year career in this creative field. Her path started over 10 years ago as jewelry design assistant that led to a senior design position that followed with a design director position. Through her fashion career Enovia has done marketing, event coordination, and corporate sponsorship procurement including deals with AirBNB, No Madness Tribe and others. Her education includes a degree in Jewelry Design from the Fashion Institute of Technology.
E.B.: Hi Eric. How you doing?
E.H.: Not too bad! So, again, thank you for joining us today…
E.B.: Of course.
E.H.: And so, start with a very basic question. It seems that no one is ever from Charlotte. So, where are you originally from?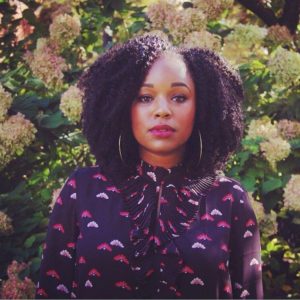 E.B.: I'm from New York.
E.H.: Okay!
E.B.: I've met about 7 people since I've been in Charlotte that are from Charlotte. Are you from Charlotte?
E.H: I am not myself. I am from New York as well, but up state.
E.B.: Okay, I'm from Queens…
E.H.: Okay. Great! Great! So what brought you to the area?
E.B.: Sherrell. I was doing marketing for a beverage brand and my contract kept getting extended
E.H.: Okay…
E.B.: and I said, "Once this contract is over I am out of here…"And she came to Charlotte after she worked for the mayor of Connecticut for a year…
E.H.: Okay…
E.B:…through a fellowship program and she needed to revive and rejuvenate…so she had an aunt here when she came to Charlotte and she said, "Charlotte is AWESOME! You have to come down" and I was like, "I'm coming!" So at the time I was doing sponsorship for a company called Funding Post where we planned events for entrepreneur who you see in England investors and there wasn't a Charlotte Chapter and I reached out to the CEO and I was like, "Hey, this is what I want to do in Charlotte!". So that's what I did I launched it here and at my first event had almost a 100 people…
E.H.: Excellent! Awesome! So you told us a little bit about your background. Where did the idea for the plug come from?
E.B.: Most of the ideas come from IMessages…?
E.H.: Okay
E.B.: So we would start with one I message like, "Hey I got this idea! This is what I want to do.." and the other person is either like, "That sounds dope" or like, "You can do a little better", So basically, Sherell is a Data Journalist who is doing her Masters right now at Columbia.
E.H.: Okay…
E.B.: She is a super numbers geek and she just felt that our story as Black people in tech was not being represented correctly. So, she was like, "I wish there was like a news forum that you know, pulled all of our stories together in a positive way…" and I was like, "that sounds like a good idea.."
E.H.: Excellent…
E.B.: …So, so she did it.
E.H.: And I will go ahead and interject here slightly that Sherrell was supposed to be with us today but she could not make it. She is the President and CEO of Black Tech Charlotte.
E.B.: Yes she is…
E.H.: Why do you think it's important to cover the accomplishments and innovations of African Americans?
E.B.: I mean I think it's super important because it speaks directly to what our future is going to be in whatever city we're in and how we can impact growth. You know, Black folks [here] view our past as not 'historically' good. So you know, going forward I think that showing our accomplishments in innovations speaks to the next generation about what you too can accomplish and what we have to give to society as a whole.
E.H.: Great! Thank you. So if you can tell me a little bit; what IS Black Tech Charlotte and where the idea came from?
E.B.: So the idea of Black Tech Charlotte came after Keith Lamont Scott was murdered. I was about 8 months pregnant; 7 months pregnant? I was very pregnant with a boy, and I was just crying and stressed out and like you know talking to my best friend, Sharell about it and she said, "I wish there was something that we could do to just pull our resources and bring people in Charlotte together in a real way; in a real impactful way" and she said, "Let's just have an event series and see who comes out", because when we go to tech events it is like, I don't know, 72 white guys and me and Sharell, so we were like they're; our tribe is here some place and we have to find them. And we started off with one event in December of 2016. We had it at Google Fiber and at the time I did marketing for a restaurant group so I was like, "I can provide the food…" and we got a 125 RSVPs! We closed the list. We closed the list at, I think, like75
E.H.: Okay
E.B.: And we were like 'who are these people?!" and how did they find out about this random event we are having…?' And we opened the list up again and we ended up with about 130 people there and we were like, we are on to something.
E.H.: Interesting…
Yeah this is a need and we put up a whiteboard and we asked people in the community what do they need. So from that we designed our 2018 plan so we did it every quarter and we kept asking the technologists, the engineers, the entrepreneurs What do you need from Charlotte and #1 was Access to capital, Training programs and Mentorship.
E.H.: Gotcha
E.B.: So we took that and formed what is Black Tech Charlotte Now, so…!
E.H.: Interesting…
E.B.: You know, if you ask people what they need they will tell you!
E.H.: That's excellent! And I am sure that most of the people you talked to are from the Charlotte area have you had any interest outside the Charlotte area as well?
E.B.: We get a lot people from Greensboro that come, some people from Raleigh, some from Durham, some from Atlanta…
E.H.: Okay, that far, wow!
E.B.: …yeah, South Carolina, some from Texas came for the right events, Florida yeah, so it's interesting time.
E.H.: Do you feel that the African American tech scene is under represented and why do you feel that way?
E.B.: In Charlotte specifically…yes. I think that there are a lot of great tech companies even through the South in general that are doing amazing things that are kind of flying under the radar unless you have unicorn status, you know? Unless you have all these VC investments nobody is really checking for you. So, I think that the Plug tells the story that people want to; that people need to hear. There are a bunch of tech companies that are out here grinding just boot strapping that are putting their everything into it that aren't getting recognized and they have amazing brands and amazing apps and amazing you know, social responsibilities and give back. So, I think that you don't see that too much in fast companies or you know, in other entrepreneur magazines. It's you get the story of "These two Black people raised a million dollars…wow", but you we don't get some of the grittier stories about the co-working space that just opened in Compton. That is getting press because an entertainer is involved but other than that we have an extensive list of Black owned co-working spaces throughout America. So there are all of these nuisances that are not being covered. So it's definitively represented.
E.H.: So we will sort of switch gears a little bit and talk about the city we all love; Charlotte. What would you say is the most underutilized resource in the Charlotte Mecklenburg area?
E.B.: Me! No, I think that there are some great small businesses resources in Charlotte. Natalie Williams. She runs the Women's Business Center. It says women but it's not exclusively for women. Anybody can go and get free help. The will help you to write your business plans; do your projections. There's Chris at the SPC at Piedmont. AMAZING people work at this center! Every college has their SPC center where you can get small business help and I think that those are not utilized as much as they should be. So yeah, those are a couple of things that people should get into. And of course Black Tech Charlotte! We're getting good press so we're getting utilize but there are so many programs that are similar are doing what we're doing so we share our resources.
E.H.: Excellent! How do you see your ventures changing the trajectory of Charlotte?
E.B.: I think because we have the two components- we have the entrepreneurship track and we have the workforce track- it gives people like a one stop shop. So, if you want to be an entrepreneur and you want to receive all these great classes you can come for that, but if you want to update your career you can come for that too. I don't know the exact numbers but there are like, I think like 2,000 Engineering graduates in the Charlotte area and there are 500 available positions…
E.H.: Oh…
E.B.: Right…so each one of these black engineers should have 3 or 4 jobs!
E.H.: Absolutely!
E.B.: So with numbers like that and without diving deeper into their data I think we can make an impact there and when it comes to career path we have a lot of people that become stagnant that come to us and they are trying to figure out how to get to the next level of their career and bust through some ceilings and barriers. So I think that we can expand some things.
E.H.: Interesting. Good. What do you see as your vision for the Charlotte Mecklenburg area? Or what would you like to see if you could see ANYTHING?
E.B.: If I can see anything I see a land that's full of honey and no…(laughter)…I would see a lot of people coming here and staying. I would see a lot talent retention. You have great school that produce amazing students and everybody is like, "I want to go to San Francisco and work. I want to go to New York and work; I want to go to Atlanta…" The vision would be that we would develop talent here that stays here. We develop companies here that are rooted here and can stay here and grow and create jobs.
E.H.: So you mentioned having talent stay here are you finding because from the statistic that I heard something like 44 new people are moving to Charlotte per day are you finding that we are losing a lot of tech talent?
E.B.: Yes, I think that people are moving here and I think that they are also leaving quickly. I think that people come to seek out opportunities and then either they get stagnant in their position and they can't go to the next level and their like, "Okay…" I know some people that this is happening to currently they are on their way out. I think as funding is concern it's a dangerous game. So people are going to San Francisco to get their capital. They're going Atlanta. They're going to Chicago they are going everywhere but here and then end up building their bases there.
E.H.: How about Raleigh the triangle that is 2 or 3 hours away. Do you find them more as a competitor or helpful as a partner?
E.B.: Raleigh is killing us right now. As tech scene wise, Raleigh has some great things going on there and even their co-working space they have the American underground they have investment row. If you a have start up you can go directly to investors. So that's already a leg up on us.
E.H.: So it seems like there is a bit we can learn a lot from Raleigh?
E.B.: There's a lot we can learn from Raleigh!
E.H.: What do you believe is holding us back from our vision?
E.B.: I think that access to capital is really what is holding us back from that. The whole HB2 debacle shut a lot of doors and there is a lot of resentment from companies who would have come here or that were thinking about coming here or even tech companies that wanted to start here. There are not enough tax breaks, there are not really great incentives to come here to start your business in North Carolina, Charlotte specifically. So I think that that diffidently needs some work.
E.H.: So a lot on the government level. Is there anything Charlotte can do specifically?
E.B.: Open up some of those purse strings and start funding some of the programs and businesses we have!
E.H.: Okay, great. Thank you! What can residents across the county do to help you achieve this vison?
E.B.: Residents can join. They can join Black Tech Charlotte. We have a yearly membership, we have 24 classes throughout the year, we have special VIP accesses.  We have special VIP events, for lack of a better word. We do great fireside chats and just really spreading the word. If you have a speaking opportunity let us know because can we can always find someone. If you want to know about speaking opportunities join the club because we have those there. We do job placement for technologists.  Yeah, so we have a lot of great resources that people can tap into. And our headquarters is at Camp North End, so. They can visit us. Ask questions hit us on Instagram and Twitter. We are always available to chat and talk.
E.H.: Are there any specific requirements to join Black Tech Charlotte?
E.B.: No. You don't have to be Black, Eric!
E.H.: Okay. That wasn't where I was going, but…What would you say is the most life changing piece of advice you have received?
E.B.: I receive so much life changing advice. My mom is like the source of all advice and I can bounce things off her; my mom and my sister. And the best piece of life changing advice was, "don't try to get a seat at the table, create your own." And that what we've done at Black Tech. We've created our own table that now people want seats at. So don't worry about anyone else's table. Once you've built your own table people are going to say, "Hey what's going on over there? How can we get in on that?"
E.H.: That classic slogan, 'build it and they will come.'
E.B.: Build it and they will come!
E.H.: Where do you find inspiration?
E.B.: I find inspiration everywhere. I am a little 'data geeky' so that's one of the driving forces in how we create programming where we get the history of what's going on; of what's happening and what's happened in the past and go from there. I have a really great circle of friends that we draw a lot of inspiration from each other.
E.H.: Well, great! Does family fit into that picture at all?
E.B.: They do! My mom is pretty inspirational. She's an attorney. So…
E.H.: Excellent!
E.B.: Yeah. So growing up; that was interesting. She went to law school while I was in elementary school. So she taught 3rd grade by day and was in law school at night. So she used to read her law books to get me to fall asleep.
E.H.: I know that worked very well on me!
E.B.: I would be out! My sister is super-duper smart! She has a PhD in Human Comparative Development. She does research for Spotify. Yeah, she's like ridiculous! So I harassed them a little bit. And Sherrell is amazing as a founder. She's super smart and has worked with some of the best/top tech companies. Frida Henry, our publicist, she's awesome. She usually gives me the words to say, but she's not here today so I can say whatever I want!
E.H.: That's right. If you can write a letter to your former self. Let just say, 21 years of age, what advice would you give yourself?
E.B.: So Much advice! I was a mess at 21!
E.H.: Weren't we all?
E.B.: Yeah…well, at 21, I actually had brain surgery for an aneurism.
E.H.: Oh gosh!
E.B.: It was near death. My eye was swollen shut for months on end. Whole 6 months of recovery to learn how to walk again, learn how to talk again, learn how to eat again. All that, all that stuff. So my 21st year was a bit of a doozer, but I would tell myself to keep strong and press on because, I got through that. And to focus more. I feel like if I had the focus and the drive that I have now…I had the drive in a different way at 21, but if I would have put all my ducks in a row I think I would be a different person now, so yeah…
E.H.: Absolutely
E.B.: I would write a long letter to my 21 year old self.
E.H.: Thinking back about all the books and articles you've read throughout your life what book or article has made the biggest impact on you?
E.B.: There's been so many. I am currently reading The Secret of Six Figure Women. Which is a really good book and I was referred to it at a panel I was at a couple weeks ago. It's about the mind frame of under earners compared to six figured women. So that book is really interesting. Another book that I like that has mas made an impact was, I can't remember the title but it's like "the seven-principle s of women". It's written by a pastor's wife and it just really goes through everything of how to be a good business women, be a better friend, be in a family; it's just a really good back I referred back to when I need help. I also like Richard Branson, "Like a Virgin". Good book!
E.H.: Sherrell Dorsey just came in. She was just able to join us not a minute ago. I'm gonna go reintroduce her.  She is the president and CEO of Black Tech Charlotte.  Part data and tech journalist, part social entrepreneur. Sherrell is determined to make North Carolina a more inclusive environment for diverse startup founders and technologists.  She is also the creator of "The Plug" the first daily tech newsletter covering diverse founders, startups, technologists, and investors in tech.  Her education includes a degree in international trade and marketing from the Fashion Institute of Technology and a master's degree in data journalism from Columbia University in New York City.  Sherrell, thank you so much for joining us today.
Sherrell Dorsey: Thank you for having me.
E.H.: Absolutely, I'm gonna go back and I'll ask you a couple of the questions that I went ahead and asked Enovia here, kind of get your input.  I'm gonna go ahead and start with a basic one. It seems like no one is ever from Charlotte. Where are you originally from?
S.D.: I'm originally from Seattle, Washington.  So, I was born and raised there.  I'm a Microsoft kid.  So I started off learning how to code in high school.   As part of a really cool program called the Technology Access Foundation, which has since, evolved into an award winning STEM academy in Washington State. And yeah when I was eighteen I was like New York City here I come.  And that's where I met this one over here.  In undergrad, in Italian class of all places.  Yes, we met in Italian class.  So yeah, so I'm from Seattle.  I spent obviously undergrad in New York City.  Worked a bit for different beauty, fashion startups.  Moved back to Seattle for a year.  Went to L.A. for like three months and like housesat on a beach in Santa Monica as I was finding my life.
E.H.: Sounds beautiful.
S.D.: Right? And lived in Bridgeport, Connecticut for a year in a public policy fellowship program and then I made my way to Charlotte.
E.H.: Great.  What brought you to this area?
S.D.: There are a couple of things.  I was at a time in my life where I wanted to just get a different life experience. I wanted to be closer to family, so I had an aunt living in Ballantyne that had just moved from Seattle.  I looked at several different cities where I did have family.  So like Austin, Atlanta, as well as Charlotte.  I looked what are the opportunities for mobility for myself in terms of transportation because I wasn't a big driver, as we know.  And transportation, sustainability, access to like a growing and budding tech community and so Charlotte kind of ultimately won out for so many different reasons.  I actually moved here with no job so for three months I was kind of like volunteering, making connections, attending events in the local startup scene where I met most of my friends and then eventually I landed a job as a marketing manager at Uber.  So I was at Uber for about a little over a year. And then they decided to move those offices or consolidate them into the D.C. office and I was like ehhh I'm not—I don't think I'm done with Charlotte yet.  So I stayed here.  I've lived; I've kind of lived all over. So I started in Ballantyne, like sleeping on my aunt's sofa. Then I moved over to NoDa.  I was in NoDa for like a year and a half. And then like I ended up living with her (Enovia) because I was like well I don't know what I'm gonna do with my life.  I can just move in with you, which is like the default.  I'm always like well where are you gonna live, cause that's where I'm gonna be eventually end up so make sure you have a space for me.
E.B.: She always lives with me.  She always ends up living with me.
E.H.: If you build a house, you have to make sure to have a loft for her to sleep in.
S.D.:  Even when I'm like 65.  It's like Sherrell's coming. Yeah and then I also lived in Cotswold.  I do a ton of traveling so I'm kind of back and forth and yeah so yeah I just—Charlotte seemed like it was emerging and I wanted to sort of be part of that. And not to mention I had come on business once and I think I like hopped on the bus one day and just talked to people and everyone seemed so nice and pleasant and the weather was good and it reminded me of the laid-backness that Seattle has and I was like this might be an interesting city to try.
E.H.: Excellent.  So where exactly did the idea for the plug come from?
S.D.: So the plug came from I don't want to say like an amalgamation of different ideas.  So I was freelance writing on tech and innovation for a couple of years before I launched the plug and I was you know also working in tech and so you know part of being a good marketing manager and just someone who's interested in tech in general is continuing to stay on top of like the latest news, you know local developments of who's doing what, where, how, what have you.  So if I'm like reading these profiles every morning like before work, I'm just noticing this pattern and trend of like oh wait okay so everyone is like a Mark Zuckerberg or Bill Gates or Elon Musk and everyone's like you know like white and male and you know I grew up with you know having software engineers and cousins who are mathematicians and I'm like I know that you know there's a crop of individuals who go to school and pay lots of money to learn these skillsets and they're creating incredible products and programs and projects and they're not being recognized in the news in a substantial way.  And so you know my theory was you know what could it look like to have a daily tech newsletter that really points out the top five stories featuring people of color, innovators, what have you. From you know them raising money to selling companies to launching new companies to what have you.  Their contributions to a larger company and so yeah I just right before work started hacking together this like semi-decent newsletter and also sharing my experiences of you know trying to remain and stay in tech in the southeast.  And sharing that and so I had a very small list of friends that probably just took pity on me and were like we'll get it whatever, we'll take it everyday, we'll hear from you everyday.   And it since has grown it never really you know started as a way to start as business it was more of an opportunity to just like let's explore and see what happens so we're almost—next month we'll be two years old and we've had some tremendous support, sponsorships from Capital One, JP Morgan-Chase, some smaller organizations that have advertised with us.  And it has been a resource.  It's so interesting like when I to other cities or conferences and people are like yeah we know what the plug is and I'm like really? Oh okay. That's cool.
E.H.:  Definitely making a name for yourself.  Yeah that's great. Awesome.  We'll go ahead and switch gears to Black Tech Charlotte.  Where did the idea come from for that?
S.D.: So Black Tech Charlotte was…there were a lot of emotions involved I think you know as I mentioned when I first moved to Charlotte there were several individuals who connected me to the global startup community so I had like did a cold call to like Charles Thomas who was heading up Queen City Forward at the time; Shannon Bens who runs Sustain Charlotte, I did some work with them early on, in my early days before employment.  And you know I just I got connected with those individuals, started going to things like pitch breakfast, there was some other interesting like startup-y things happening that I would try to sit in on.  And the challenge was that it was always like white males; it was just the same with like the plug right? It was like everything was so homogenous here and then when I wanted to go to networking or meet up events with black professionals it was always like only black people and then it was like more cocktail happy hour versus I think content about the future.  And so I was like how do we get all these ideas and groups together in a fun way that's like sexy and just like you know boring "we say the words innovation" but we don't really know what that means and so it was just and then I got back from this press trip in Virginia where we were doing this tour with Village Capital, an impact investment firm out in D.C. who was going on this tour and spending a 100,000 dollars investing in these small scale entrepreneurs of all colors or what have you and during that time is when Keith Lamont Scott was killed.  So I'm kind of away during this time, by the time I get back to the city obviously it's just very heavy tension there was just a lot happening and I thought to myself I have this very optimistic view of the world of you know intellect and talent kind of being the markers that define us as human beings and define our society.  And you know even though I'm able to talk and speak about black and brown people in a sense of like innovation, I cannot prevent this pervasive issue of racism and prejudice that continues to exist and really kind of sully the work that we are capable of doing if these were not barriers.  And so I remember texting Enovia and was just like what do we do? You know we can't obviously solve this problem today.  We can't kind of continuously march in the streets.  We don't necessarily want to run for office but what can we do to give people a sense of hope and opportunity that also looks like how we plan our cities.  There was a study that was released that spoke about the lack of economic mobility—everyone cites this stuff and I just think about how long ago that study came out and then I think about well what solutions are at the table because everybody keeps talking about it but you know what are we going to do? With you know myself having my experience you know at Uber, being a marketing manager, negotiating partnerships, Enovia like also just being a phenomenal partnership, person and director.  We thought surely we have enough resources among ourselves to create something that could be interesting.  And so we thought like you know hey, you know what about let's just do some sort of an organized meet up.  I had written enough about folks that when I call and I ask for a sponsorship and product they're like "yeah of course."  So, in about a three-week time period, maybe even a two-week time period, we just said let's try something, let's do like this Black Tech Charlotte and see who comes out and we I think had planned for maybe 30/40 people and by the end of the week, we had over 125 people RSVP.  And that was like us not having a broad array of contacts, we were just like we'll design a little hack-y flyer.  Google Fiber, we were able to rent that space out and we got some cool Wi-Fi devices and gear.  Google Fiber gave us their Google Cardboard virtual reality glasses.  Enovia at the time was director of marketing for Wild Wing Café, so we were able to get food and I was in Harris Teeter pushing carts of two for twelve wine bottles so we could have something to drink and we had like 100 dollars to spend.  So it was very much a—we didn't think this would be something that could be this, you know.  And so we saw you know the signal of you know in even talking to folks, people, like private equity investors came out and there were like we're looking for deals you know we want to invest in you know entrepreneurs of color, we want to see what's out there.  Cause everyone's in a silo, you know meeting folks like Shawn Andrews who, he's like out in Concord and he's like yeah I've just been sitting at home building like a mental health app with an algorithm that you answer and respond to questions and then it develops a pipeline of content for you to listen to based on you know, like your need at the time, whether you're dealing with depression or kind of other things that I think can you know can be assisted with some clinical support, you know recommended by  a licensed professional.  So, that's how Black Tech Charlotte started and we continue to just look back at the data and the feedback and say okay well what else is needed, what else can we do, who else can we leverage, so that's was a very long-winded response but.
E.H.: No, that was great.  I really appreciate that.  And so you had just mentioned just a second ago that you're having investors come up to you and say you know we want to get connected with these people you know we're having trouble finding them.  Why do you feel that African-Americans in the tech scene are underrepresented and why are they having trouble getting connected with the right contacts?
S.D.:  So I'm a data person, so I don't automatically just go "racism ahhh" like a lot of time yes that is the case, right? We do understand who gets more resources.  However, we also have to understand population control against availability and then you know there's kind of a disparate when you look at coastal cities just having like more access.  You look at the California's, the D.C.'s, Massachusetts, and the individuals who sort of have the school systems producing a pipeline for them of investment.  I think one thing definitely representation.  The challenge I think in communities of color is that we have to focus so much on survival that it is hard to be able to focus on the future.  And this is kind of a working theory, so you know this thought and idea may change at any given time, but we have to work and focus a tremendous amount of time on survival and basic rights and justice in this country.  And that has been true for myself, it's been true for my mother, it's been true for my grandfather who left Birmingham, Alabama at the age of thirteen and moved to Detroit and then Seattle.  And I think about the potential that has been lost because we've had to focus on our survival and not our thriving.  I think about the wealth that hasn't been created as a result of that or being able to invest in it and say yes you know I have the resources to purchase technology for my family because I don't have to make a decision between being in a neighborhood that I've been relegated to and a system that I've been relegated to or a job system that does not afford me the same pay.  You know, I think it's women of color are paid maybe 66 cents on the dollar.  So when you start looking at those numbers if we get granular into that data, there's a reasons why investment has not happened at scale.  I will say also there's a misconception that you know folks of color are not innovators.   Like we invented half the things that are like in this world from the stoplight to the broom right? And so we have that ingenuity, it just has not been invested in because of the prejudices and because of the biases.  And I think that that has held us back because I—and there's an amazing book that is talking about you know opting out, there's some articles the Brooklyn Institute has produced around you know the lack of innovators in communities of color.  And so anyway, I think it's a very complex question but I think mostly when you get people of color and women who have not traditionally held the top layers of power, be it at a firm, a university, what have you.  It tremendously affects the demographics of who is represented, right? Because you're going to hire someone that looks like you that comes from your neighborhood, that comes from and experience and environment that you're familiar with.  And that has hurt us, right, it has hurt us with numbers.  And so my thing is like I try not to focus on that in my work, I try not to focus on disproportionality because what I believe is we are now at a place where we have access to resources that we can create our own thing.  That's also why Black Tech Charlotte exists because I don't really need someone to say okay hey you know add ten percent more black people to your place of employment.  I'm like you didn't want me there in the first place and that's fine, it's your company.  Like Black Tech Charlotte is my company if I want to have fruit snacks and give fruits snacks out to everybody that walks in the door that's what I get to do because that's my company.  But I think now the narrative is we can build and grow and hire who we want.  We can do that because we have the talent, we have the resources, what have you but not it takes the investment and so when I even look at the responsibility of cities now when we are talking about this upward mobility crisis in Charlotte, I think that challenge is okay yeah let's  talk let's throw solutions on the table.  Now who's gonna write the check?  Who's gonna write the check?  Who's gonna make sure that like we do have what we need?  So, anyway. There's that.
E.H.: Thank you for that.  I really appreciate that.  What is your vision for the Charlotte-Mecklenburg area?
S.D.: I think my vision is that people get comfortable with taking risks and putting the right resources behind what they say they want to see.  And that happens now.  I don't think that we can have these plethora of programs where you're asking people to essentially volunteer their time to run.  The people that are doing this work should be well-compensated so they can too can feed their families and they too can purchase homes and continue to invest in the community because they community has invested in them.  And I think that whatever is launched to solve some of these challenges there has to be a sustainable resource of funds continuing to come through and I'm not saying just like write the check and walk away, what I am saying is that there has to be a system in place or a pipeline in place that helps people be prepared to be successful.  I think about the work that we do and I mean like Enovia is a beast at like—she landed us AirBNB as a partner, like we've got some other cool developments we're going to be announcing in the next couple of months but you know like I said we started Black Tech Charlotte with like 100 dollars and we're constantly still operating on that mentality of like we have to hustle every single day to get the bare bones basics together.  Like I don't take a salary, like at all, you know I'm in grad school, like I'm eating Ramen, you know and fruit snacks, clearly.  But I think when people and the talent that come here and they say I wanna give this, this is my work and it is for this community, that shouldn't be taken lightly.  And the individuals that have resources and resources beyond dollars too right?  But people who can give space, people who can give access to talent or what have you.  Whatever the skillset is.  That they can come behind someone and say we see what you're trying to do and we want to institutionalize this as part of like our city that when you think Charlotte, you think Black Tech Charlotte.  When you think Charlotte, you think Tech Charlotte.  When you think Charlotte, you think digi-bridge and Huga co-working spaces and you think like all of these individuals who are literally day in and day out making tremendous sacrifices to provide something of sustainable value.  Because otherwise if we close up shop and I go and I can go easily, we can easily leave and go get a job in San Francisco and get six figures and stock options and a skateboard and like be fine, right? But how do you keep talent?  How do you keep these folks to stay here and say we're going to continue the build the city?  And I think that it has to be long term thinking and also long term investment and you have to put your ego and your feelings aside and say listen the work is what matters, it's not my title, it's not my position, and you know we just have to like write the check and then provide resources.   Do you know what it could mean for us be underwritten?  Like and what we could do?  I mean in a sixth month time frame of us launching, like officially, we put together a 100,000 fund for entrepreneurs of color.  Like sixth months. By the end of twelve months we had served 800 plus entrepreneurs of color and technologists of color in Charlotte.  We're in month fourteen.  Month thirteen, we opened up a space.  I mean like do you know like we did that on like five dollars and a stick of bubblegum.  And not to take away from some sponsors and supporters, but I think about the fact that I would love to be able to hire a full time staff.  I would love to be able to create programming within our community that matches students with skillsets and our cooperate partners for internships.  I would love to hire UNCC data science students to come and help us work on data projects around what's missing in communities of color as it relates to resources to become entrepreneurs.  I'd love to be able to do all of those things.  And on top of that I would love to have a standing meeting with a business mentor in Charlotte that is helping us to look at the checks and balances of our systems, create processes so that when Sherrell decides to walk away and go live on some island somewhere then you know whomever is next, whomever we're training up can now become the director of Black Tech Charlotte.  But we need to know how to do that because we're building the plane as we go.  But what if there was a resource system that added funding that added mentors that added policy leaders.  I mean, mayor Vi Lyles came to our opening and just said the most beautiful thing, the most beautiful words.  And so now, it's like well what's next?  And how do we create support systems around folks like myself and Enovia and Garrett Tischi at Huga and whomever to say okay you really have the support of the city and not just by words and not just by us coming and like eating your cookies at your grand opening but continuously.  So I think that that could be a model that Charlotte could adopt that would also attract other people here.
E.H.:  Great.  Can I ask you a little more introspective question?  If you could write a letter to your former self, what would you say?
S.D.:  Do it all afraid.  Ask for help a lot more than you have, for sure.  I think I had a lot of false starts, a lot of frustrating moments, lost a lot of time and resources on either A being too timid or I think now there's also something about turning thirty where you just don't care anymore it's like you know when folks get real old and they just say whatever is on their mind.  I feel like I'm getting towards that spectrum where I'm just like I'm just going to say what I want, do what I want and I think early on I was just afraid.  I was afraid of what the response would be, I was afraid of failing, and now I'm just like if it works, it works, if it doesn't, it doesn't.
E.H.:  I mean there's so much that we can learn just from our failures on our own.  And I think as you know what Enovia had pointed out earlier, you know as becoming a little bit older our drive towards that changes from what our drive was in our early 20s.  So I'm going to go ahead and wrap it up here.  How can listeners today learn more about Black Tech Charlotte and the plug?
S.D.: Yes, so going to blktechinteractive.com is a great way to start.  We have a newsletter so we send out monthly newsletters.  We have learning labs every single month where various experts in their field come and do these very micro workshops with about like thirty people per workshop.  A lot of one on one, just business skill savvy.  Things like how do you prepare for funding? How do you do customer discovery and make it effective? And also like folks can become a member of Black Tech Charlotte, it's 99 dollars for the year that's an investment in all of the things that we have going on and so you get access, full access to all of our events, VIP events.  We are building a database of resources of black technologists and creatives here in Charlotte so you get access to that database so if you're looking for someone to hire and you're looking for a person of color, you can look into that database.  And there's a couple of other benefits that are added there as well, so that's definitely one-way.  And then with the plug, you can literally subscribe to theplugdaily.com right online and we have not just a daily newsletter we also have a weekly newsletter for folks who like inbox zero, I understand.  For the plug, we send out the weekly version on Fridays, so that's the best way.  And we're also on social media.  On Twitter at "we are black tech charlotte" and then on Instagram at Black tech interactive and then the plug is just underscore the plug daily.
E.H.:  Sherrell, Enovia thank you so much for being a guest on Queen City Profiles.  This has been a great talk.  If anyone is interested in learning more about Sherrell or Enovia visit blktechinteractive.com and medium.com/theplug.  Thank you everyone for listening to this episode of Queen City Profiles.  This podcast is brought to you in part by Digital Charlotte and the James L. Knight School of Communications at Queens University of Charlotte.  We thank the Knight School of Communications for their assistance with the recording and the editing of this podcast.  For more information about the Knight School of Communications, please visit them online at queens.edu/knight.  To learn more about this or of our other podcasts visit our website at digitalbranch.cmlibrary.org.  Follow us on Facebook at facebook.com/cmlibrary or on Twitter @cmlibrary.  We'll see you next time.