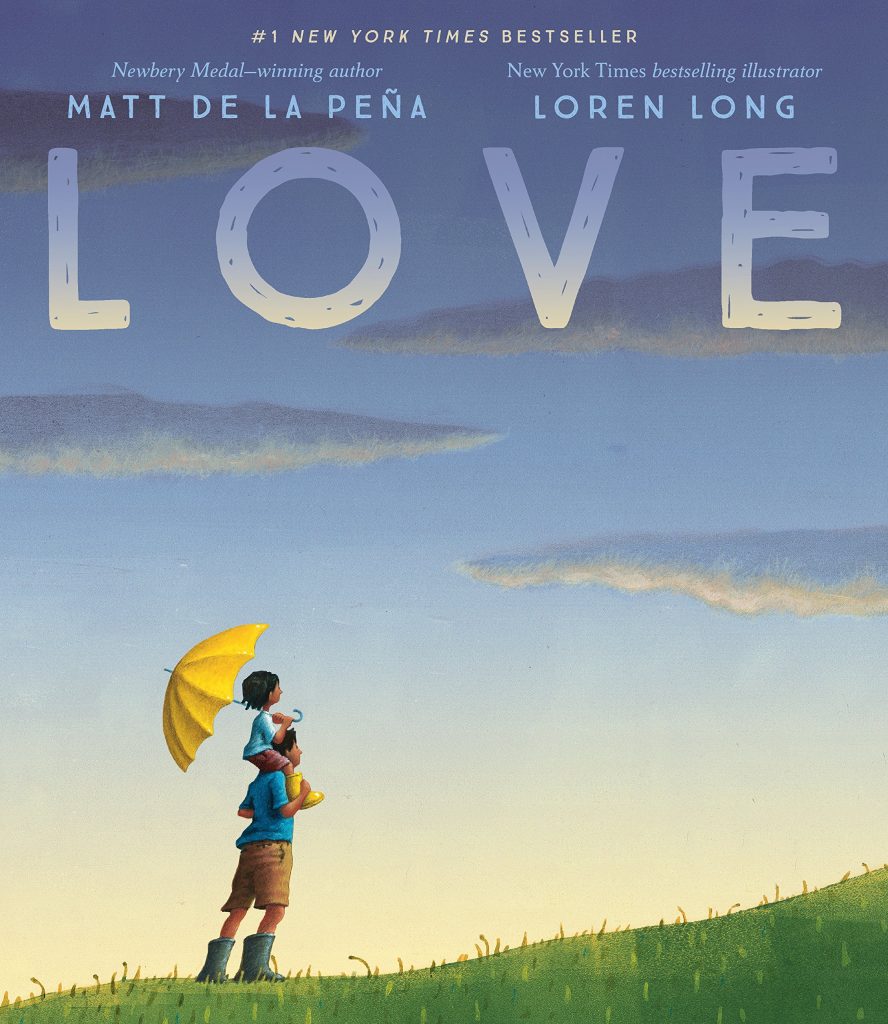 LOVE
Written By: Matt de la Peña
Illustrated By: Loren Long
Synopsis: Illustrations and easy-to-read text celebrate the bonds of love that connect us all.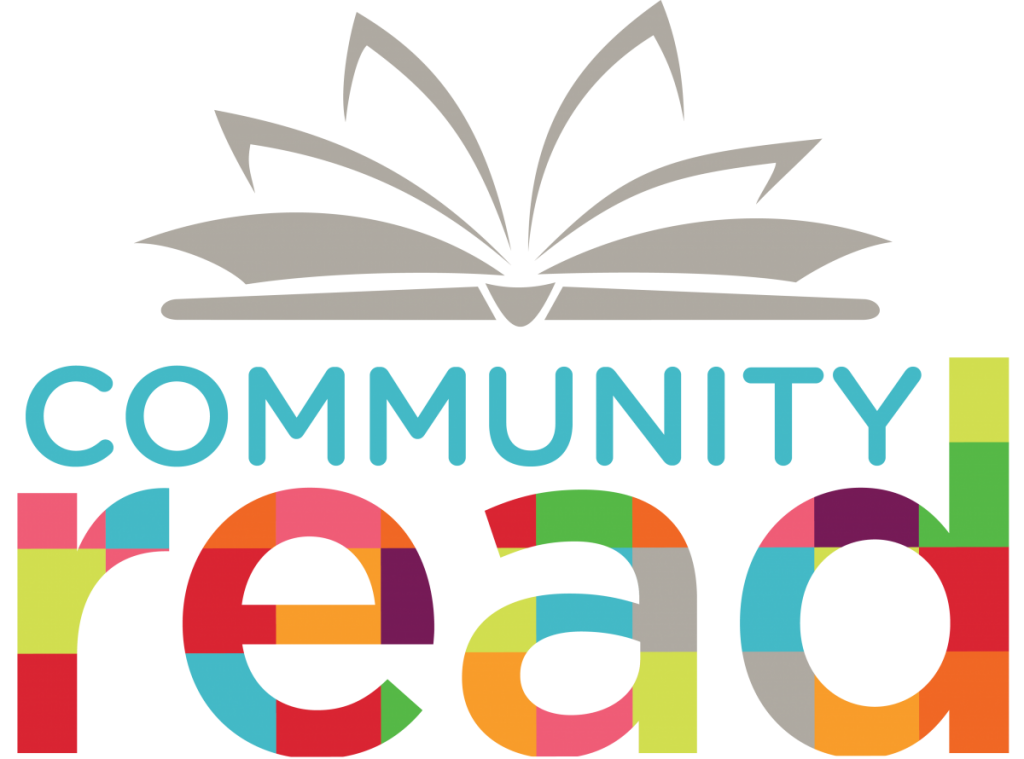 Community Read!
March is a special month here at the library, we're celebrating Community Read!  It's basically the most fun (and BIGGEST) book club, ever!  Everyone in the community can participate by reading one of the books, sharing their thoughts, attending our super awesome programs and so much more!
In this edition of Storytime Train, we'll not only be sharing this year's picture book selection, LOVE by Matt de la Peña but also some fun activities that you can do at home to celebrate some people we love and appreciate most – our community helpers.
If you're looking for more information about the Community Read books, programs, or want to take the pledge to read at least one of this year's titles, (we just read LOVE, so that totally counts!) make sure to visit our COMMUNITY READ page!
Sensory Stations:
Firefighter Water Table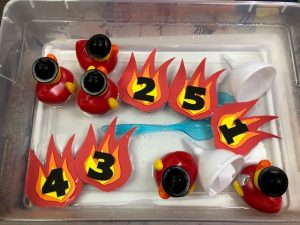 EEEEK!!  FIRE! FIRE! The ducks are in trouble!  Can you put on your community helper hat and help them?  Through a firefighter themed water table, children can develop fine motor skills by using spray bottles to put out the flames and save the ducks!  Using colorful craft foam and numbers, your mini firefighter can also work on their color and number recognition skills!
Putting this table together is also super easy!  All you'll need is a little creativity and the following items:
An empty bin to fill with water (the clear, under the bed, 28-quart storage bins work great!)
Craft foam to make your flames (I used red, orange, and yellow – but you can use any colors to create a color recognition opportunity)
Flame Template – CLICK HERE for the template!
Sharpie (to write numbers on your flames)
Tacky Glue (if layering your flames, like those in the picture, make sure to give your flames plenty of time to dry before submerging them in water).
Spray bottles
Rubber Ducks (or any rubber bath toys)
Big plastic spoons, funnels, bowls, any other fun water tools
Your community helper hat!
This will provide hours of fun learning opportunities and play!  You can also add other toys for your mini firefighter to save or pose new challenges.
Construction Site Sand Table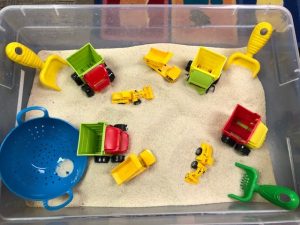 CRASH! DIIIIIIG! BAAAANG! CLAAAANG!  Encourage your mini engineer to dig, build, excavate and more with a Construction Site inspired sensory table.
For this easy to make Construction Site bin all you need is:
An empty bin (once again, clear, under the bed 28-quart storage bins work like a dream!)
Play Sand (this can be found at most home improvement stores)
Don't have sand on hand? That's okay!  You can also use beans, rice, oatmeal, dirt, or any other base you have on hand that can be scooped up
An assortment of trucks
Shovels
Sand sifters (kitchen colanders work great too)
Small buckets
Any other fun construction tools/toys you can think of
Creativity!
And of course, an official construction hard hat!
This is a fun activity to do with kids of all ages and you can change the base to be as kid friendly as possible.  Additionally, you can also download some fun construction site sound effects and help your child match the truck or tool with its sound.
Thank you so much for joining us on the Storytime Train!  Please make sure to check back for more fun and exciting Storytime Adventures!

Did you LOVE our story, LOVE, today?
Click the button below to discover more fun books about Love in all shapes and sizes!
ACTIVE READING QUICK TIPS
What exactly is Active Reading?
Active reading is a way to read with your child that we know builds their early reading skills. Active reading encourages kids to think about the book, teaches them new words, and connects books to their world. There are three key things that we call the ABCs of active reading: Asking questions, building vocabulary, and connecting to their world. Through these Active Reading Quick Tips, we hope to practice some of the things that you can do with a book with your child that research has shown to effectively teach early reading skills that will prepare kids for kindergarten.
This month's focus is: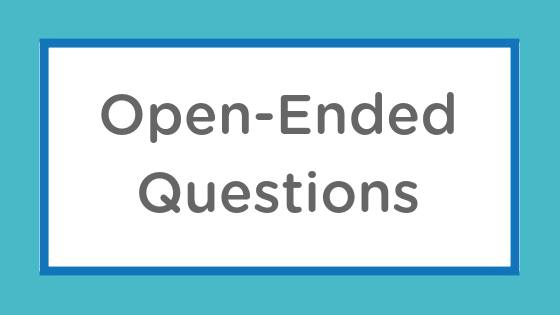 Open-ended questions open a conversation about the story. These are questions that help children infer information, or build new understanding using their knowledge and the text, evaluate or form opinions about the story, and use information in the story to think about creative or new ideas or scenarios.
Potential Question Starters:
Unsure of where to start with asking open-ended questions?  Here are a few potential question starters to get the conversation started:

What do you think about …?
Remember when…?
Would you like to…?
Does ______ seem like a fun/boring/exciting thing to do?  Why or why not?
Our book this month, LOVE, also provides several open-ended question opportunities.  Consider asking questions such as:
What do you think love means?
What do you think love looks like?
How do you show someone you love them?
How do you think other people show love?  Does love just mean family and friends?  Why or why not?
Developing Open-Ended Questions Over Time:
Remember that how your child responds to questions will change over time. You should expect to fill in the answers for your child at first, but as they develop knowledge of the book, language, and thinking skills, they will be able to contribute to the conversation.
When it comes to open-ended questions, it is more important to have a conversation around one question than to ask lots of different open-ended questions throughout a book. The point of open-ended questions is to create new learning and new ideas with your child and this is done best through discussion about one question.
Are you interested in learning more about Active Reading or registering for one of our informative workshops? 
Click the button below to visit our website to find out more information and to find a workshop near you!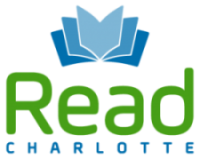 Active Reading is made possible with the additional generous support of: