When children develop positive, nurturing relationships with the adults in their life, they are more likely to develop positive relationships with their peers. Model the behavior that you want to see in your child such as using polite language. Examples: saying please, thank you, no thank you, can I use that when you are done?
Recommended reading this week
Flower Garden by Eve Bunting
Koala and the Flower by Mary Murphy
Merle, the High Flying Squirrel by Julia Rawlinson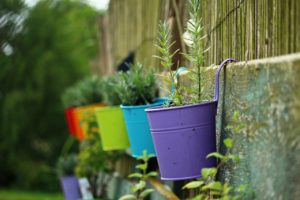 Decorate Flowerpots
Find any pot and decorate it. Then fill it with dirt and plant a seed. Watch it grow during the Spring months. For decorating ideas, visit http:// www.mamasmiles.co m/spring-crafts-forkids-decorate-terracotta-pots .
.

Do something to show you care.
There are some many ways to show you care, and the best way to teach your child is by modeling it for them. Help your child make something and then give it to someone they truly care about. It can be a plant, a picture, or some yummy cookies!
Si no está seguro de cómo leer un libro con su niño o si el libro está en otro idioma, ¡no se preocupe! De cualquier manera puede disfrutar de libros con su hijo. Miren juntos las ilustraciones (dibujos) y haga preguntas como "¿A dónde piensas que va el niño?"; "¿Por qué te parece que está contento?"; "¿Qué está haciendo el perro?"; "¿Qué crees que va a pasar después?" ¡Esto ayudará a su hijo a disfrutar de libros y desarrollar su vocabulario y el amor por la lectura! Descargue la hoja de ayuda.
Lecturas recomendadas esta semana
Flower Garden de Eve Bunting
Koala and the Flower de Mary Murphy
Merle, the High Flying Squirrel de Julia Rawlinson