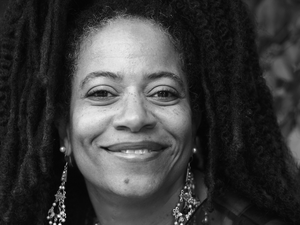 Renee Stout is a visual artist who explores the mystical and rhythmic planes of existence. Her assemblages combine painting, sculpture, found objects, vintage photographs, ancient symbols, herbs and potions, and remnants of stories and letters. Her mixed-media, multi-sensory installations delve into spiritualism, soothsaying, magic and spells. She creates fictional narratives with imaginary characters derived from alter egos that trace her personal history and address contemporary issues of community strife and healing. Her work has been exhibited internationally and at the National Museum of American Art, the Smithsonian Institution National Museum of African Art, the Halsey Institute of Contemporary Art, and the Smithsonian Institution American Art Museum.  Renee is a graduate of Carnegie Mellon University.
This episode is perfect for anyone interested in the conjuring of mystical powers and the life of a contemporary visual artist.
IN THIS EPISODE
Renee explains her art and what viewers would see at one of her exhibits.
She shares what she wants viewers of her art to feel and the story she is telling.
She reveals the role alter egos play in the construction and presentation of her work.
She discusses what herbs, roots and found objects have to do with her art.
She explains who Fatima Mayfield is and the conjuring of supernatural forces.
Renee talks about connecting with spirits and interventions from other dimensions.
She discusses moments of possession and the role music plays in her work.
She tells a story about when she cast a spell of her own.
She reveals who exactly are Madame Ching and Dorothy.
Renee talks about how the relationship of her parents affected her and the burden and benefits of being sensitive.
She shares what it was like growing up in Pittsburgh and key advice she received from her father.
She tells the story of an early encounter with art that changed her life.
She discusses how she feels about the label 'black art' and being known as a black artist.
She talks about her breakout exhibition and what people don't know about the life of an artist.
Renee shares what she is working on now, whether her art is where she wants it to be, and what spell she would cast on the world.
Mark Peres adds a personal word that begins this way, "When I hear Renee Stout talk about spirits and music and spells, I'm brought back to the street of Rio de Janeiro watching African-Brazilian women in white crinoline dresses…"